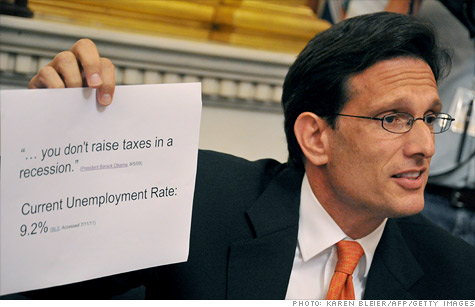 Rep. Eric Cantor has led GOP opposition to revenue increases.
NEW YORK (CNNMoney) -- House Republicans who refuse to consider tax increases as part of a debt ceiling deal are out of step with most Americans, according to two new polls.
That's bad news for Republicans who are betting the farm on resisting Democratic efforts to raise taxes on the rich.
When looking to reduce debt, politicians can employ two tactics. The first is to cut spending. The second is to raise taxes. Most budget experts say you need to do both.
But House Republicans -- an overwhelming majority of whom have signed a pledge to this effect -- refuse to consider any kind of tax increase, not matter who it hits.
Turns out, most Americans don't share their conviction.
A full 67% of Americans favor a deal to raise the debt ceiling that includes taxes on wealthy individuals and corporations, according to a poll released Thursday by Quinnipiac University.
And according to Gallup, only 20% of Americans want a deal that consists only of spending cuts. That's the position of House Majority Leader Eric Cantor and many of his colleagues.
Instead, most Americans want the deal to include a mix of spending cuts and tax increases, something that is much closer to the bargaining position staked out by Democrats.
What kind of tax increases are being discussed?
The White House wants to close loopholes that benefit the owners of private jets, and raise taxes on hedge fund managers who pay lower tax rates on so-called "carried interest."
Additional proposals would change how business inventory is taxed, eliminate government subsidies for oil and gas companies and limit deductions taken by the wealthiest Americans.
Closing those loopholes would raise a relatively modest amount of revenue, especially compared to the monster spending cuts that are on the table.
But because the elimination of those tax breaks would result in higher taxes, Republicans are bound to oppose them by an anti-tax pledge designed by Grover Norquist, president and founder of Americans for Tax Reform, that nearly all of them have signed.
Republicans say that raising taxes inhibits economic growth, arguing that increasing the burden on "job creators" now would derail what has already proven to be, at best, a shaky economic recovery.
So far, House Republicans, led by Cantor, have stuck by their guns. Cantor walked out of negotiations with Vice President Joe Biden last month after Democrats "continue to insist that any deal must include tax increases."
Not much progress has been made since. On Wednesday, Cantor reiterated GOP opposition to higher taxes.
But another consideration is starting to creep into the political calculus as the Aug. 2 deadline to raise the debt ceiling approaches: Fear of being blamed for a default.
For historical perspective, Republicans have only to look to 1995, when Newt Gingrich stood firm against former President Bill Clinton and briefly caused a government shutdown.
Clinton was able to blame Republicans for the economic peril, a move many observers say helped him win re-election.
Mitch McConnell, the top Republican in the Senate, said Wednesday that he doesn't want to repeat that particular piece of history.
"The reason default is no better idea today than when Newt Gingrich tried it in 1995, is it ... would give the president an opportunity to blame Republicans for a bad economy," he told conservative radio host Laura Ingraham.
"If we go into default, he [Obama] will say Republicans are making the economy worse," McConnell said. "And all of the sudden, we have co-ownership of the economy. That is a very bad position going into the election."