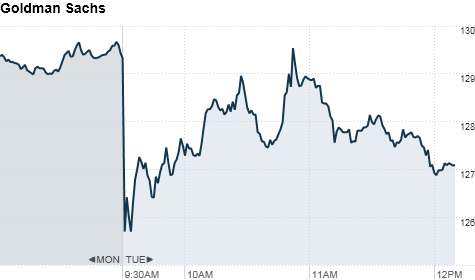 Click the chart to view Goldman Sach's stock.
NEW YORK (CNNMoney) -- With Goldman Sachs and Bank of America trading near 52-week lows, investors are paying a lot of attention to earnings reports coming from the financial sector.
Goldman Sachs (GS, Fortune 500) missed earnings for the first time since December 2008. The stock was down 2% on the news.
Bank of America (BAC, Fortune 500) reported a net loss of $8.8 billion for the second quarter of 2011 due to $14.5 billion in mortgage related losses. The shares of the financial giant slid 2.5% in early afternoon trading, pushing the stock down nearly 30% for the year.
Not everything is cloudy in the financial industry though. Shares of Wells Fargo (WFC, Fortune 500) advanced 4% on better than expected earnings, citing an increase in deposits, lower operating costs and decreasing loan loss rate.
These are some of the topics discussed on StockTwits Tuesday:
bondtrader83: we are still a few years away from being able to take book value seriously.... $C $BAC $JPM
MOFinancial: $BAC Call: We have a portfolio in which every one percent decline in home values impacts this portfolio in a meaningful way.
ToddSullivan: EX settlement charges, $BAC didn't have all that bad of a Q, revs beat, YOY EPS beat, loss prov. down $5B...pretty good actually.
KeithMcCullough: $BAC rallying from the lows - hearing Europig crisis is over (for the next 3 hours of trading)
BryanMortenson: $GS buying back 17% of the co. with a 91M share authorization. Only the company's 5th miss since going public in 1999.
funkybrew: What a world we live in: $GS is being risk averse... wish they were when they were issuing CDS and CDOs right & left for the housing sector.