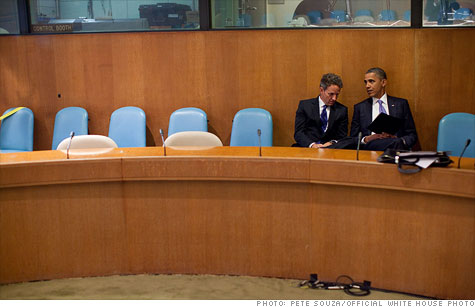 Tim Geithner and President Obama are up against the wall.
NEW YORK (CNNMoney) -- The facts about the debt ceiling haven't changed. There are less than two weeks left until Congress walks the Treasury Department off a cliff. And there is still no clear legislative path to avoid that outcome.
House Speaker John Boehner -- who has repeatedly insisted that default is not in the cards -- said as much on Tuesday.
"You know, there are ... lots of ideas out there from Democrats and Republicans," Boehner told reporters. "But guess what? None of them have a majority."
President Obama had a plan. It can't pass the House.
House Republicans have their Cut, Cap and Balance bill. It can't pass the Senate.
And on Tuesday, the bipartisan Gang of Six revealed its own debt reduction plan. Obama lent his support. The market rallied. Members of the Senate expressed an unusual amount of enthusiasm for the plan.
But that doesn't mean this is a done deal. Far from it.
The plan hasn't been written in legislative language, and the Congressional Budget Office hasn't weighed in.
As former Treasury Secretary Larry Summers said: It's "more a plan to have a plan rather than a plan." And Sen. Dick Durbin, a member of the Gang of Six, said the plan is "not ready for prime time."
Asked specifically if the proposal to cut $3.7 trillion in debt can be implemented as part of the debt ceiling negotiations, Durbin replied, "No, it can't."
There is a backup plan.
Sens. Mitch McConnell and Harry Reid have crafted an emergency measure in case negotiations fail. The plan sets up a mechanism only Congress would dream up.
The measure would allow for three short-term increases of the debt ceiling while at the same time letting lawmakers register their disapproval. The first increase would boost the debt limit by $700 billion and the next two by $900 billion each.
But the plan doesn't contain the magnitude of spending cuts that House Republicans are looking for in exchange for a vote to increase the debt ceiling. It's not clear the measure will pass the House.
Reid said on the Senate floor Wednesday that the House must act.
"Right now I am at the point where I am saying, we need to hear from the House of Representatives," Reid said in a floor speech. "We have a plan to go forward over here."
Even if the McConnell-Reid compromise gains traction and passes both chambers, the stopgap plan might not appease the credit rating agencies, which have warned that substantial debt reduction is needed to avoid a downgrade.
In an acknowledgement that the clock is running low, the White House reversed course on Wednesday and indicated Obama would be willing to sign a short-term increase in the debt ceiling provided there was broad agreement on a plan that needed more time to work its way through Congress.
The political calculus in the House remains extremely complicated. Any bill requires 218 votes for passage. Republicans are united in opposition to tax increases of any kind, while Democrats would rather not reform entitlements.
The two sides remain engaged in the same struggle that has been playing out for months with little evident progress.
Lawmakers still have to raise the debt ceiling. The consequences of inaction have their own set of difficult facts.
For starters, interest rates could rise and stock prices could plummet.
On top of that, the federal government won't be able to pay 44% of its bills worth an estimated $134 billion, according to a Bipartisan Policy Center analysis.
Some lawmakers -- debt ceiling deniers -- have suggested a true default can be avoided if the Treasury undertakes a few inventive strategies like selling the nation's gold or unloading excess federal property.
Treasury Secretary Tim Geithner says those plans are a no-go.
Geithner said in a letter to Congress in April that any "fire sale" of assets would be "damaging to financial markets and the economy" and would "undermine confidence in the United States."
"Likewise, for both legal and practical reasons, it is not feasible to sell the government's portfolio of student loans," Geithner said.
--CNN's Ted Barrett contributed to this report.