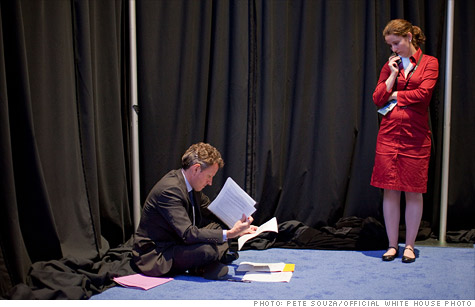 Treasury Secretary Tim Geithner first told Congress in January that the debt ceiling would need to be raised.
NEW YORK (CNNMoney) -- Lawmakers rushed Sunday to find a solution to the debt ceiling debate that would provide some measure of certainty for financial markets, even as both sides continued to spar in public.
The ceiling must be raised by Aug. 2. Lawmakers have been negotiating for months, looking for a way to both cut spending and raise the nation's legal borrowing limit.
Still, there is no clear path forward.
"It's taken us seven months to get to the place where we are now," Treasury Secretary Tim Geithner said Sunday on CNN's State of the Union. "We're almost out of runway. We're not nowhere, but we're almost out of runway."
If Congress fails to raise the $14.3 trillion debt limit, Americans could face rising interest rates and a declining dollar, among other problems.
On Friday, the latest round of talks between House Speaker John Boehner and President Obama collapsed, a development that was announced after U.S. markets closed for the weekend.
While investors have thus far been mostly disinterested in the political maneuvering in Washington, there is a growing consensus that world markets could react negatively if some measure of uncertainty is not eliminated, and soon.
"We are now getting to a point where markets around the world will question whether the political system in Washington can come together and compromise for the greater good of the country," White House Chief of Staff Bill Daley said on NBC's Meet the Press.
Boehner told the Republican rank-and-file during a conference call Saturday that his goal is to come up with a solution within 24 hours, a Republican aide said. The deadline is aimed at heading off a negative reaction in Asian markets.
Markets in Tokyo open at 8 p.m. ET.
Congressional leaders met Saturday evening to discuss a two-step approach put forward by Boehner that would raise the country's debt ceiling in stages.
Under the two-step plan, the nation's debt ceiling would be raised through 2011 in exchange for spending cuts totaling around $1 trillion.
The ceiling would be raised again, through 2012, after a special commission is set up to find ways to reduce the long-term debt through entitlement and spending cuts and tax reform.
Democrats are not thrilled with the plan, and Geithner dismissed it Sunday, saying it cannot pass the House or Senate.
"What we can't do is leave the threat of default hanging over the American economy," Geithner said. "That's like a tax on all Americans. It's deeply irresponsible."
While the two-step plan would raise the debt ceiling, rating agencies might still downgrade U.S. debt. Two key ratings agencies have said they are expecting policymakers to not only raise the debt ceiling but to agree to meaningfully reduce the debt.
The other way forward, Geithner said, was a return to the deal that Obama and Boehner had been negotiating last week before talks fell apart over tax issues.
Geithner said that deal -- which would cut spending, reform entitlements and close tax loopholes -- is still the president's preference. Speaking on Fox News Sunday, Boehner would not rule out a return to that track.
"I don't know, it may be pretty hard to put humpty dumpty back together again," Boehner said. "But my last offer is still out there. I've never taken my last offer off the table."
Even if lawmakers do settle on a plan. It will take days to move it through Congress and to the president's desk.
Any proposal will still have to be put into legislative language, scored by official budget analysts and vetted by rank-and-file lawmakers whose votes will decide its fate.
--The CNN Wire contributed to this report.