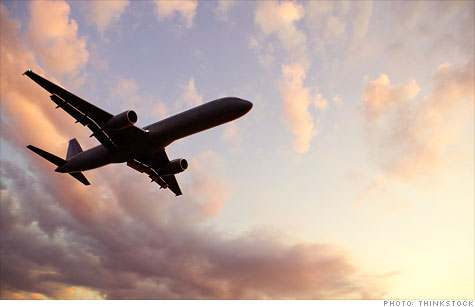 Airlines thwart tax savings on fares.
WASHINGTON (CNNMoney) -- Political stalemate nearly scored one for consumers.
Late Friday, Congress failed to get a deal to extend the Federal Aviation Administration's powers. That means airlines no longer have the power to charge numerous airline taxes for cargo and jet fuel, as well as sales tax.
At stake is 15% tax break on airline tickets, or about $50 for international travel and as much as $30 on a typical domestic airline ticket, airfare watchers say.
But consumers buying new tickets won't get to see that savings, because most airlines hiked fares by an equivalent amount over the weekend.
The lack of a deal to extend FAA authority has even greater implications: Nearly 4,000 federal workers, not including air traffic controllers, are being furloughed and contractors are stopping work on critical multi-million-dollar projects to modernize airports.
But airline experts watching fares say that every day there' s no deal, the federal government can't collect some $25 million in taxes. That's $25 million a day the airline industry is now pocketing, said Rick Seaney, founder of Farecompare.com.
"Every day this ticks off, consumers are paying the same price and the airlines are pocketing the difference," Seaney said. "The question is whether or not the airlines drop their prices again once the taxes are collected again."
On Friday and Saturday, nearly all the major domestic carriers -- including American Airlines (AMR, Fortune 500), JetBlue Airways (JBLU), Southwest (LUV, Fortune 500), US Airways (LCC, Fortune 500), Delta Airlines (DAL, Fortune 500) and United Continental (UAL, Fortune 500) -- raised their airfares.
Airlines such as Southwest defended the move, saying consumers won't be paying more, even as Southwest hiked fares by $4 each leg, spokeswoman Whitney Eichinger said.
Moreover, the airlines are "double-dipping," Seaney said, because they're not having to pay higher taxes on non-commercial jet fuel, due to lack of a deal. Their tax burden on a gallon of jet fuel decreased from 22 cents to 4 cents.
Only Alaska Air (ALK), Spirit Airlines (SAVE) and Virgin America Airways, so far, have decided to keep their fares the same and pass on tax savings to consumers. Virgin is marketing the savings with a campaign call "Evade Taxes, Take Flight.
Spirit Airlines also touted its move to pass on the savings.
"As always, Spirit continues to look out for its customers by lowering all domestic non-stop fares by 7.5% and passing along the other tax savings, which can add up to over $50 round-trip per customer," Spirit said in a press release.
There is a silver lining for consumers who flew over the weekend. Consumers who had already purchased tickets -- and paid airline taxes -- for flights taking off Sunday or afterward should be able to get a tax refund, Treasury officials said.
That's because airlines collect taxes up front but the federal government doesn't get the money until the plane takes off. The Treasury Department is working with the airlines to come up with a way for flyers to get a refund for the days there are no taxes owed, a Treasury spokeswoman confirmed.
Congress could pass a deal and try to retroactively apply the tax on flights. But in the past, when the FAA has had partial shutdowns, flyers were able to apply to the IRS for a tax refund.
-- CNN's Meghan Dunn contributed to this report.