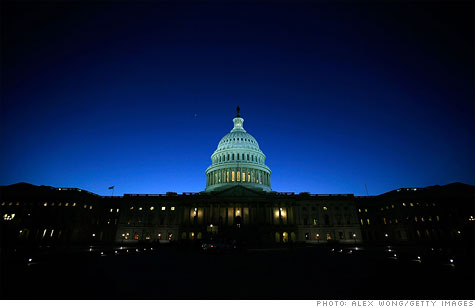 NEW YORK (CNNMoney) -- The two calamity-avoiding debt ceiling measures under consideration in Congress have something in common.
House Speaker John Boehner says his bill has $1.2 trillion in discretionary spending cuts over ten years. Senate Majority Leader Harry Reid says his bill has about the same level of such cuts.
If either bill is adopted, the cuts would easily be some of the biggest in history.
Here's the problem: Nobody knows which federal programs are on the chopping block.
The bills for the most part avoid targeting specific programs for cuts. Instead, they set spending caps that would limit growth over a ten-year period.
But which hard choices will have to be made? Cuts to social programs? The Food and Drug Administration? Foreign aid?
Those decisions would be put off until sometime in the future. For now, lawmakers would be agreeing to only a top-line number.
That leaves everybody in the dark.
"Because the whole process has been done in back rooms, the public has very little insight, and consequently, no voice in what's going to be cut," said Craig Jennings, the director of federal fiscal policy at OMB Watch, a group that monitors federal spending.
The cuts -- unprecedented in size -- could pack a wallop.
Federal safety net programs could be on the line, said Jennings. "It's things like food inspections and the National Weather Service."
Grassroots groups and Washington lobbyists would normally fight to protect those funds, but the ambiguity has limited organized response.
"If you don't put out a certain menu of programs that are going to be reduced, the targets of those cuts will have less time to organize and mount a defense," Jennings said.
Spending caps could lead to "some really stupid allocation decisions," said Norman Ornstein, a resident scholar at the conservative American Enterprise Institute. "You might cut in places where the long-term costs will be greater, and even do some things that endanger public safety."
The lack of details might make it harder for Americans to understand the stakes, but it does make it easier to push the deal through Congress. The ambiguity seems to be part of the strategy -- on both sides.
"They don't want to put pen to paper on that stuff, and I certainly don't blame them," said Bill Frenzel, a guest scholar at the Brookings Institution and a Republican who served 20 years in Congress.
Press Secretary Jay Carney said as much on Tuesday when questioned by the White House press corps about a lack of detailed disclosures during talks with John Boehner.
"[W]hen you put forward a position ... on difficult issues ... it becomes charged politically, and your chances of actually getting an agreement diminish significantly," Carney said. "That's how it works."
Elected Democrats have thus far been restrained in their criticism of the caps -- underscoring the importance of raising the debt ceiling no matter how painful future cuts may be.
And now it's way too late for a drawn out fight over spending priorities.
"It's no way to govern, but it's better than the alternative -- a default," Ornstein said.