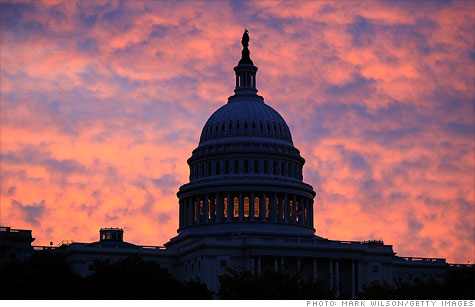 Economists are worried about the risk of recession if Congress remains deadlocked on raising the debt ceiling.
NEW YORK (CNNMoney) -- Economists say the debt ceiling debate has already damaged the U.S. economy, and many worry that a deadlock could send the country hurtling into a double-dip recession.
"Growing uncertainty about the ultimate outcome inevitably has some negative effect on business capital investment and hiring as the August 2 deadline approaches," said David Crowe of the National Association of Home Builders.
So far, the damage has been fairly limited, with most economists surveyed by CNNMoney saying the debate has reduced the nation's gross domestic product by only a few tenths of a percentage point, at most, to date.
And economists generally aren't too worried about the economic impact of the U.S. briefly breaking past the Aug. 2 deadline.
"If a deal appears imminent, there will not be any impact on GDP," said Bill Watkins, executive director of the Center for Economic Research and Forecasting.
But the impact could be substantial if a prolonged battle prevents the government from sending out millions of checks owed to Social Security beneficiaries, federal employees, active-duty soldiers and other Americans dependent on government funds.
If the debt ceiling isn't raised, the federal government won't be able to pay 44% of its bills in August, worth an estimated $134 billion, according to a Bipartisan Policy Center analysis. That's the rough equivalent of cutting annual spending by $1.6 trillion -- enough to have a major effect on the economy.
But just how major?
One third of economists surveyed said a new recession is possible if there's a prolonged deadlock. And the threat is even greater because the economy is still healing from the last recession.
"It could precipitate a double-dip given that the economy is weak," said Watkins.
Some compared it to the financial meltdown in the fall of 2008 that turned a typical economic downturn into the Great Recession.
"If a default is allowed to occur, this would be the equivalent of self inflicting a financial crisis that is larger and more damaging than the one from which the economy is still struggling to recover," said Sean Snaith, professor of economics at the University of Central Florida.
Economists disagree on just how long past the deadline negotiators could go before triggering a recession. David Wyss, an economist at Brown University, said a couple of weeks of deadlock might not cause too much damage. But "if the problem extends, it probably means a return to recession with a negative third and fourth quarter."
But the majority of the 18 economists surveyed believe the economy will keep growing, albeit more slowly, even with a continued debt ceiling impasse.
A prolonged deadlock would shave a few points off of GDP for the rest of the year, but stop short of an actual recession, said David Nice of Mesirow Financial.
He doesn't think debt debate will drag on for too long, but if it does, he would cut the firm's forecast for economic growth roughly in half in the third quarter.
Are you in extreme debt and can't pay your bills? E-mail Erica.Fink@turner.com if you'd like to be included in an upcoming CNNMoney story or video. Please indicate in your e-mail if you're interested in being in a video.