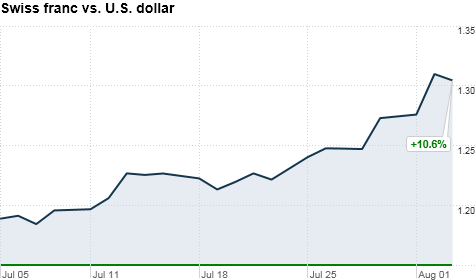 The Swiss franc has been on a tear, but the Swiss National Bank is taking a stand to curb the currency's rise. Click the chart for more on currencies.
NEW YORK (CNNMoney) -- The Swiss franc has rapidly heated up over the past month as investors have rushed to the currency amid growing worries about the global economy.
Over the past month alone, the Swiss franc surged 12% against the euro and 10% versus the U.S. dollar to hit all-time highs.
The sharp rise prompted the Swiss National Bank to step in Wednesday to try and cool the rally.
The Zurich-based bank bank cut interest rates to "as close to zero as possible" and said it plans to boost the supply of Swiss francs to money markets this week.
The bank said it considers the franc to be "massively overvalued," and that its strength "is threatening the development of the economy and increasing the downside risks to price stability in Switzerland."
The announcement appeared to have the desired effect, with the Swiss franc losing some ground against the euro and dollar for the first time in a week.
But analysts don't expect the weakness to last long.
"The surprise move suggests that we will see the Swiss National Bank intervene in the currency market to balance the risks for the region, but the central bank may struggle to stem the bullish sentiment underlying the franc as investors look for an alternative to the U.S. dollar," said David Song, currency analyst at the DailyFX.
A generally weaker global economy and ongoing sovereign debt problems in Europe suggest that the Swiss franc's safe haven appeal to dissipate, noted Lena Komileva, senior vice president and global head of G10 strategy at Brown Brother Harriman.
"Overall, the Swiss franc's strength has been the symbol of significant debt imbalances between major economies," Komileva said. "Given that deleveraging across the United States, United Kingdom and parts of the eurozone has much further to run and global financial fragility is unlikely to disappear, this remains a structurally positive environment for the Swiss franc."
Jittery investors have also been plowing into gold -- also considered a safe haven in times of uncertainty. Prices have jumped more than 12% during the past month.
Gold futures for December delivery spiked almost 2% Wednesday, to $1,673 an ounce. Earlier in the session, prices hit an intraday record high of $1675.90 an ounce.