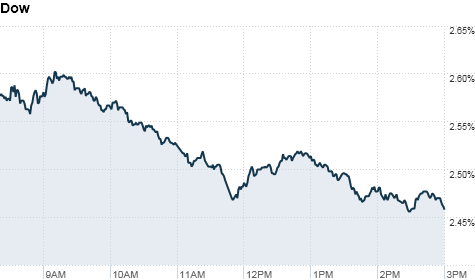 Click the chart for more bond market data.
NEW YORK (CNNMoney) -- Treasury prices rose to their highest level since November as fears about a slowing U.S. economy sent investors rushing to the safety of government-backed debt.
The yield on the 10-year note was at 2.45%, after trading at over 3% less than two weeks ago. The yield on the 2-year note sank to 0.27%, a record low.
Demand for short-term cash was so high that the yield on the one-month T-bill hit a yield of negative 0.01% Thursday -- effectively meaning investors were willing to pay the government money for a guaranteed safe haven.
Treasuries have rallied for more than a week as investors have faced one weak economic report after another. On Thursday, the Labor Department said that weekly jobless claims rose to 400,000 last week -- another sign that the labor market is far from out of the woods.
The disappointing data have pushed the Dow Jones industrial average (DJIA) down more than 1,000 points in the past nine sessions. All three major indexes have erased their gains for the year and the market's fear gauge -- the VIX (VIX) -- is within spitting distance of 30, the level at which fear is considered to be severe.
"We have been surprised at where these economic numbers have been coming in," said Mike Pond, co-head of U.S. interest-rate strategy at Barclays Capital. "We expected the U.S. economy to be in a soft patch but we did not expect it to carry into the third quarter."
Most experts don't think the economy will slip back into a recession, but there is a heightened sense of concern over the mere possibility.
"I don't think the chance of us slipping into a recession is 50-50, but days like this [in the market] that make me question if it's now a real possibility," said Kim Rupert, fixed income analyst with Action Economics. She said she wouldn't be surprised to see the 10-year yield fall to 2.25%.
Bond investors will turn to Friday's important government jobs report for any signs of a turnaround.
The closely-watched report is expected to show the U.S. economy created a modest 75,000 jobs in July, according to a consensus of 19 economists surveyed by CNNMoney. The unemployment rate is expected to hold steady at 9.2%.
Adding to the unease, the European Central Bank announced Thursday that it would start buying bonds from eurozone countries in an effort to help lower rates. But the ECB's bond-buying appeared to be targeted at Portuguese and Irish bonds, not the debt of larger countries such as Spain or Italy.
On the bright side, Treasuries have returned roughly 2% since July -- outperforming stocks and other fixed-income asset classes.