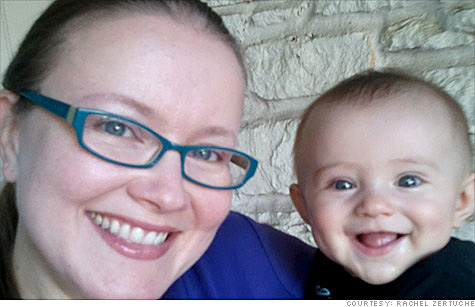 Teacher Rachel Zertuche is one of many who lost their jobs.
NEW YORK (CNNMoney) -- Friday's jobs report could kick off the worst quarter for state and local government jobs on record. And teachers are at the center of the bullseye.
The public sector is estimated to have shed 65,000 positions in July, according to Greg Daco, U.S. economist for IHS Global Insight. Some 50,000 are projected to come from state and local governments.

And things won't get better anytime soon. The state and local government sector could shed around 110,000 jobs in the third quarter, which would top the massive downsizing that occurred in the early 1980s.

"The sector keeps bleeding jobs," Daco said. "The third quarter could be the worst ever."
All told, the state and local government sector has lost 577,000 jobs since its peak in September 2008. Some 224,000 of those have been in education.
While teachers and other school employees are often dismissed temporarily over the summer, more are getting the ax this year because of major state budget cuts to public education. And fewer are expected to get rehired in September, leading to the grim estimates for the quarter.
"Since the state and local sector is facing a lot of tough budget decisions, it will lay off teachers it won't rehire in September," Daco said.
Rachel Zertuche of Austin, Texas, is one of those educators looking for a new job. The 6th grade social studies teacher was let go after more than six years in Austin classrooms.
While she hunts for a new position, the new mom is commuting 26 miles to work part-time in an office and taking some proofreading jobs. Her husband, a cook in an upscale restaurant, took a second job at Romano's Macaroni Grill.
Competition for teaching jobs is stiff, she said.
"There are so many of us who were laid off," said Zertuche, who has been teaching a total of 14 years. "We're all scurrying for the same positions."
Around the country, districts are sending thousands of workers to the unemployment office. In years' past, school administrators were able to meet their budgets through attrition or retirement. And many were able to recall a good number of those who were let go.
But not this year, they say. The disappearance of federal stimulus funds and the continued weakness in the economy mean fewer dollars for public education. And that means fewer employees.
Over the past two school years, New York has lost 10,000 school jobs, but 9,000 of them were through attrition or retirement, according to the New York State United Teachers union.
Now, the ax is falling on actual workers. School districts, which suffered a $1.3 billion cut in state aid for the 2011-12 year, have left 5,660 teachers, librarians, counselors and nurses out of work. Another 1,940 school professionals, including bus drivers, cafeteria workers, custodians and teachers aides, are in the same boat.
"This year, there is no room for contraction, which is why you'll see real people on unemployment lines," said Dick Ianuzzi, president of the 600,000-member union.
That means class sizes are soaring and students have fewer support services.

In California, there are now 30 to 35 kids in some classes, up from 20, said Dean Vogel, president of the California Teachers Association. Art, music and some electives are disappearing. School libraries are closed because there are no librarians to staff them.
"What it means for the learning environment is that it changes it drastically," Vogel said.
Some 4,200 teachers around the Golden State are anxiously awaiting word that there's a job for them in September.

Julia Cervantes-Espinoza, who teaches 2nd and 4th grade in the Los Angeles Unified School District, has been laid off each of the last three years. But this is the first time she ended school without being rehired. More than 2,000 teachers remain unemployed in her district.
While she's starting to apply for positions teaching English as a Second Language in community colleges, she remains hopeful that a job will open up for her. She's relatively high on the seniority list.
"I'm Number 153 so I think I'll get called back, but we'll see," Cervantes-Espinoza said.