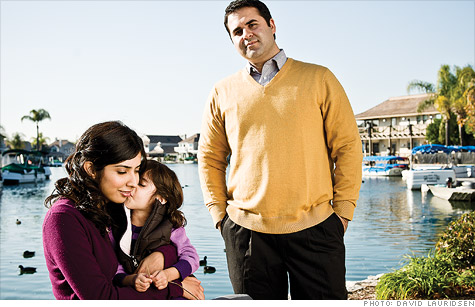 As they cope with the market's wild swings, investors including Shawn Lakhani are staying the course. Lakhani lives with his wife Asma and daughter Safaa in Yorba Linda, Calif.
NEW YORK (CNNMoney) -- Thursday was a bloodbath on Wall Street, and after an early-morning bounce, stocks swung between gains and losses throughout Friday. So how are average investors reacting as the market gets whipsawed?
A group of young investors CNNMoney talked to last fall about their appetite for risk are sticking with their strategies.
"The last two weeks have been pretty rough," said Brian Higgins, 31. "Nevertheless, my positions have remained mostly unchanged, save that I moved a little from U.S. markets to emerging markets."
With about 80% of his portfolio in stocks and 20% in bonds, Higgins was one of the more eager young investors to take on risk, while others were much more cautious and even shunning stocks.
The San Diego-based Navy helicopter pilot stays cool by focusing on his long-term goals. He says that strategy allows him to stay composed and even use the market's drops as buying opportunities.
Higgins' approach is right in line with what financial experts recommend.
"Rapidly moving markets are always emotionally difficult. This one is no exception," said James Paulsen, chief investment strategist at Wells Capital Management. "But the last thing you want to do is sell. Investors need to think about where the market will be a year or two from now, not a week or two from now."
Investors who have a large chunk of their savings parked in cash are also sticking to their guns, finding comfort in the lack of volatility in their portfolios.
That includes Chris VanderBeek, an associate director at Aon Benfield in Dallas, who has about 50% of his portfolio in cash, 30% in bonds and just 20% in stocks.
"I obviously missed out on much of the 15% or so rally that took place since last June, but I haven't seen anything that convinces me things are getting better here or abroad," said VanderBeek, 33.
Similarly, Shawn Lakhani, a business systems analyst in Yorba Linda, Calif., who shifted nearly all of his portfolio to cash before the 2008 financial meltdown, is holding off on altering his strategy.
"I still don't have confidence in the market," said Lakhani, 28, adding that he is still nervous about high unemployment, shrinking consumer spending and the unpredictability of Washington policymakers. "After seeing how this week went, I still prefer to be on the sidelines as a spectator."
And after seeing the steep losses in the market on Thursday, Lakhani said the memories of the market's collapse a few years ago are still fresh on his mind.
But experts say the current market environment is not really like 2008. For starters, Americans aren't drowning in debt, banks aren't lending beyond their means, and investors aren't overexposed to the stock market.
In fact, stocks are trading almost at low as 12 times earnings estimates, said Well Capital Management's Paulsen.
And although the market's fear gauge -- the VIX (VIX) -- has surged above 30 to signal a high degree of fear, the volatility measure is still far from the levels hit in the fall of 2008, during the height of the crisis.
"People are relating Europe's crisis to the collapse of Lehman Brothers, which I think is absurd, and they have convinced themselves that the United States is also headed back into a recession," Paulsen said. "The chances are pretty remote -- I don't think we're anywhere close to the end of the recovery cycle."
Given the market's attractive valuation and heightened sense of fear, Paulsen is advising his clients to beef up their exposure to stocks.
"These kinds of panic-induced slides aren't uncommon. We had one like this last year," he recalled. "The reality is that your best opportunity to invest is when everyone else is petrified, and that's always been the case."