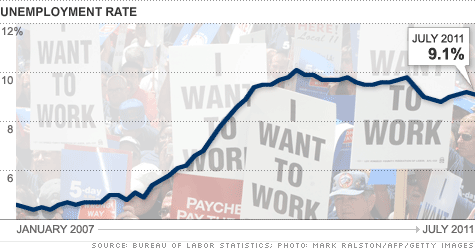 While it has improved slightly since 2009, the unemployment rate is still high at 9.1%.
NEW YORK (CNNMoney) -- The recession ended two years ago according to the by-the-book definitions. But tell that to the nearly 14 million Americans who are out of work.
The unemployment rate is still above 9%. And for those who have jobs, many are involuntarily working part-time because their hours were cut. Others have a temporary job because that's all they can find.
These folks don't need to see the official GDP numbers to know economic growth is anemic.
But in case you do need a refresher on where our economy and job market stand, here's a round-up of some of the key figures:
• About 13.9 million Americans remain unemployed, and of those, 44.4% have been out of a job for more than six months.
The average length of unemployment recently hit 40.4 weeks -- an all-time high since the government started tracking that data in 1948.
As even Fed Chairman Ben Bernanke has pointed out repeatedly, that's a major problem. After six months, job skills can get rusty and employers will often hesitate to hire people who have been unemployed for that long.
• In July, the unemployment rate fell slightly to 9.1%, but that wasn't entirely encouraging. Much of the change was due to workers retiring or giving up on the workforce -- not getting jobs. (Check the unemployment rate in your state.)
• The so-called underemployment rate is still staggeringly high at 16.1%. This number includes not just the unemployed, but discouraged workers and people who work part-time for economic reasons.
• Every Thursday morning, the government reports how many Americans have filed fresh unemployment claims. That number has been above 400,000 for 17 straight weeks now. Many economists say that the weekly jobless claims number needs to get below 400,000 and stay there.
• The economy is growing, but that growth is lethargic and has not been driven by consumers.
The U.S. economy grew 0.4% in the first quarter and 1.3% in the second -- but much of that was due to corporations spending more on equipment, and exports rising due to the weak dollar.
• Consumer spending, which accounts for the bulk of the U.S. economy, is all but at a standstill.
It's hardly a surprise then that one of the general themes of the recovery continues to be a disconnect between how average Americans are feeling and how businesses are doing.
• Major U.S. companies are reporting solid profits -- but much of it is due to them increasing productivity or strengthening their presence in rapidly growing economies like China, Brazil and India.
Merck (MRK, Fortune 500) and Boston Scientific (BSX, Fortune 500) for example, just announced thousands of layoffs in the U.S. But in emerging markets like China, they're actually adding jobs.
There was an onslaught of mass layoff announcements in July. As Borders closes down its remaining stores, more than 10,700 people will lose their jobs.
Tech giant Cisco (CSCO, Fortune 500) is axing 6,500 jobs and BlackBerry-maker Research in Motion (RIMM) is cutting another 2,000. Meanwhile, investment banks Goldman Sachs (GS, Fortune 500), HSBC (HBC) and Credit Suisse (CS) are handing out droves of pink slips too.
• In conclusion, very little progress has been made in the jobs recovery.
About 8.8 million jobs were lost from the job market's peak in January 2008 to the bottom in February 2010. Now, after 18 months, the U.S. has gained back just 1.9 million jobs. That's only about a fifth of what was lost.