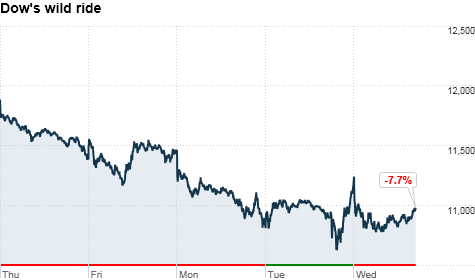 August is on pace to be the worst month for stocks since the financial crisis. The past five days have been particularly harrowing. Click the chart for more market data.
NEW YORK (CNNMoney) -- Down 500. Down 630. Up 420. Down 300.
Wall Street is having a serious case of financial crisis déjà vu: wild triple-digit swings in the Dow, massive volatility and headline-to-headline driven trading are now just part of the average day.
This type of volatility is a day trader's dream come true, but the fear and wild market swings are taking their toll on average investors, who are quickly moving to get out of this market's way.
Volumes at online retail brokerages TDAmeritrade (AMTD), Scottrade and E-Trade (ETFC) are up as much as 50% in the first six trading days of August. TDAmeritrade said they had record-setting volume on Monday, roughly three times the brokerage's average.
The retail brokerages said they've seen investors move increasingly into less-risky assets like money market funds, bond funds and cash. Those who've elected to stay in stocks have moved into large-cap, value companies.
"Typically our retail investors are interested in Apple (AAPL, Fortune 500) or Netflix (NFLX), but the retail darlings are getting nudged out by names like General Electric (GE, Fortune 500) or Ford (F, Fortune 500)," said Nicole Sherrod, managing director of the trader group at TDAmeritrade.
The reason for this heightened volatility? Wall Street is torn between two vastly different assessments on where the global economy is headed.
Bullish investors point to strong second-quarter earnings and last Friday's modestly-decent jobs report. But bearish investors believe the European financial crisis could be the next Lehman Brothers and the U.S. is likely slipping into another recession.
These increasingly diverging camps are causing the market to be chaotic, observers said. There is no middle ground to be had, and anyone positioned that way is getting ravaged by both the longs and shorts.
"This is a top down re-assessment of the economic landscape on whether central banks and central governments can cushion and insulate the market as they've done for the past 30 years," said Jack Ablin, chief market strategist with Harris Private Bank.
Like 2008, investors feel like they are fighting multiple fires at the same time, Ablin said.
The Dow surged more than 400 points on Tuesday as traders drew at least some confidence that the Federal Reserve was going to keep interest rates low for at least two more years. But that confidence was yanked away a day later as investors once again turned their eyes to the financial problems in Europe.
"Everyone is incredibly frustrated," said Ryan Detrick, chief technical strategist with Schaeffer's Investment Research. "Typically we would hold a position for one to three months -- now we're holding or shorting a stock a week at most."
It seems like the only thing that's certain right now is gold, which has jumped 15% in the past month to top $1,800 an ounce.
Many average investors' nerves were still frayed from the bear market of 2008 and early 2009, said Dean Barber, president of the Barber Financial Group.
Although stocks had rebounded sharply from the lows of March 2009, Baby Boomers closing in on retirement have little patience for another violent downturn.
"Right now it's just panicking and selling among retail investors," Barber said. "They're tired of being told they should just 'buy and hold," which hasn't worked at all this decade."
Wall Street's go-to "fear index" -- the VIX (VIX) -- has surged to its highest level since early 2009, when stocks were still reeling from post-Lehman aftermath.
The volatility is unlikely to end any time soon. The VIX can take weeks to return to normal levels, according to a technical analysis report from Swiss bank UBS. Further, there remains little clarity on whether the U.S. economy is poised to enter a recession and whether the European Central Bank will have the ammunition necessary to save its debt-laden members.
UBS Strategist Mitchell Revsine wrote in a note to investors that if the market's worst-case fears about the global economy are realized, the VIX could remain high well into the end of this year.
The traditional advice financial advisors give in a market such as this would be to hold tight and don't give into panic. But Ablin and Barber said this time, investors should re-assess their entire portfolios.
"Investors need to start from scratch, rebuild their portfolio and have a conversation on how much risk they are willing to take," Barber said. "Get some help -- someone who can navigate this market unemotionally."