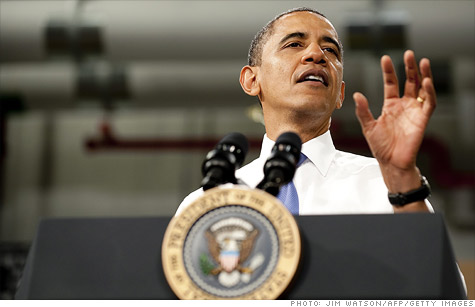 President Obama wants to extend the payroll tax holiday and unemployment benefits to boost the economy.
NEW YORK (CNNMoney) -- Now that the debt ceiling crisis is behind him, President Obama is ready to focus on the top problem plaguing the American economy: weak job creation.
Part of his prescription for 2012 revolves around cutting payroll taxes by 2 percentage points and extending unemployment benefits. The idea is give people more money to spend, which will entice businesses to hire additional workers to meet the demand.
Wait...aren't those programs already in place?
Yes they are. But the jury is still out on whether they are actually helping spur economic growth and job creation.
After all, gross domestic product rose at a paltry annual rate of 1.3% in the second quarter. Unemployment remains high, coming in at 9.1% in July.
"I don't see a spending boom out there," said Polina Vlasenko, research fellow at the American Institute for Economic Research.
The Obama administration last December wrangled a one-year payroll tax reduction as part of tax-cut deal with Republicans in Congress. It reduces workers' levy to 4.2% from 6.2%.
And unemployment benefits were lengthened to the current 99-week maximum in 2009 and reauthorized five times since then, most recently at the end of last year. The deadline to apply for extended federal benefits expires in the first week of January.
These economic programs don't come cheap. The payroll tax cut and unemployment benefits extension cost $112 billion and $56.5 billion, respectively.
But the president feels they are worth the cost. He plugged his economic revival ideas in Minnesota on Monday, the start of a three-day bus trip through the Midwest. Obama highlighted the payroll tax cut, which he said gave the typical family $1,000 more to spend.
"It also means businesses have more customers," he said. "And it means they might hire a few more folks as a consequence."
The payroll tax cut has contributed four-tenths of a percent to economic growth, according to Joel Prakken, senior managing director at Macroeconomic Advisers. And it has lowered the unemployment rate by two-tenths of a percent, or about 300,000 jobs.
"It has been a modest help," he said.
Extending the deadline to file for unemployment benefits once again is a more complicated issue. Some experts say that such long-term support actually keeps the unemployment rate elevated because it discourages people from looking for a job.
There's no question it stimulates spending, however, Prakken said. Extended benefits have likely added to economic growth by up to four-tenths of a percent.
Every dollar of spending on unemployment benefits boosts the economy by $1.60, according to the President's Council of Economic Advisers. A report last year by Congress' Joint Economic Committee found that ending extended benefits would drain the economy of $80 billion and result in the loss of more than 1 million jobs.
The problem is that despite consumers' increased spending, companies aren't jumpstarting their hiring, Vlasenko said. There is still too much uncertainty and lack of confidence to prompt businesses to expand their payrolls.
"Whatever efforts were done to stimulate the economy, if they helped at all, it hasn't been very much," she said.