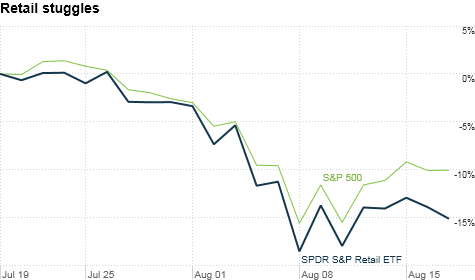 Retailers have underperformed the market the past month as investors have expressed concerns that U.S. consumers are starting to pull back.
NEW YORK (CNNMoney) -- Retailers have generally been reporting strong earnings for the second quarter. And several well-known stores, such as Kohl's (KSS, Fortune 500), Nordstrom's (JWN, Fortune 500), Wal-Mart (WMT, Fortune 500) and Home Depot (HD, Fortune 500) have raised their profit outlooks in the past week.
But the recent market turmoil and disappointing economic data have some industry analysts questioning whether retailers are simply being too optimistic too early.
"Given the turbulence we've seen in the markets, it could spur negative changes in consumer shopping patterns," said RJ Hottovy, director of consumer equity research at Morningstar.
While the second quarter was good -- 80% of the consumer discretionary companies that have reported their latest results beat expectations according to Thomson Reuters -- it's also one of the quietest sales periods for retailers.
That's why analysts said investors should take this quarter's results with a grain of salt.
The recent market turmoil couldn't have come at a worse time for retailers, who are just starting to prepare for the back-to-school shopping season.
This period is the second-biggest shopping event of the year. But it is more "necessity driven," said Phil Rist with the consumer research firm BIGresearch.
Typically, parents will purchase items for their kids regardless of what's going on in the broader economy. So retailers may not get too hard from a slumping economy just yet.
Consumers also continued to shop in July -- just as the stock market volatility was beginning to pick up and the debate over the debt ceiling and deficit reached a fever pitch in Washington.
The Commerce Department said earlier this week that U.S. retail sales rose 0.5% in July, excluding volatile car and truck sales. That was better than the 0.2% that economists had expected.
But there are some signs that consumers are now finally starting to pull back.
A Goldman Sachs and International Council of Shopping Centers survey showed 16% of consumers said last week the recent market turmoil had "significantly impacted" their willingness to purchase non-essential goods and services. This follows a plunge in last week's University of Michigan consumer sentiment survey for August.
"Consumers haven't felt this dreary about the economy in more than two years," Rist said.
The bigger concern is whether this recent drop on consumer sentiment will drag into the later parts of the year, analysts said. The fourth quarter is the period when most retailers make the bulk of their annual profits thanks to holiday shopping.
Some retail executives have begun to position for a possible downturn.. Saks (SKS) CEO Steve Sadove told investors the luxury retailer is "approaching the fall season a bit more cautiously" while Abercrombie & Fitch (ANF) executives said the possibility of a double-dip recession had increased noticeably.