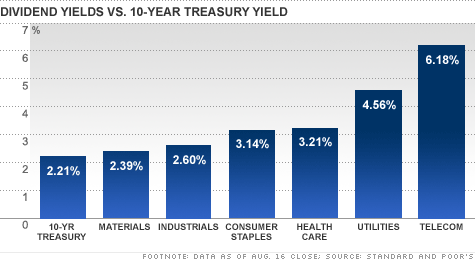 NEW YORK (CNNMoney) -- If you're still having a hard time stomaching the market's recent drop, consider this upside: yields on dividend-paying stocks are now even sexier than they were before.
The average yield for a company in the S&P 500 that pays a dividend is 2.66%, according to S&P Indices. Compare that to a 10-year Treasury note. It is yielding a little more than 2%. In fact, nearly a third of the companies in the S&P 500 enjoy a higher yield than 10-year note.
A company's dividend yield can go up for one of two reasons: A company pays a higher dividend or its stock price goes down. Obviously, it's better to have the former rather than latter. But investors hungry for a steady income in this environment will take what they can get.
"Perhaps the best way to search for income is through high dividend-paying equities," said Mark Luschini, chief investment strategist at Janney Montgomery Scott, in a research note. "High dividend-paying equities can help to buttress a portfolio during market declines and yet generate a return even if prices do not move higher."
Experts say dividend yields are likely to remain more attractive than bonds if you consider how weak the economy is. The Federal Reserve has pledged to keep short-term rates low through the middle of 2013.
Meanwhile, Corporate America is still on track to deliver record earnings for the second quarter, a sign that dividend payouts won't get cut anytime soon.
"It's normal for a market to enter a correction, but companies don't change their dividends in response to that," said Josh Peters, an equity strategist at Morningstar. "We've actually seen a tremendous number of dividend increases this year."
That combination -- bottoming stock prices and steady or even increasing dividends -- produces the optimal yields.
"This is an opportune time to get into dividend stocks," said Doug Cote, chief market strategist at ING Investment Management. Cote said that owning dividend payers helps protect investors from even more market turmoil.
But the best dividend-paying stocks are ones that have the potential to both raise their dividends even as their stocks climb higher.
Morningstar's Peters is a big fan of companies in utilities and health care, which are among the highest-yielding sectors in the S&P 500, including National Grid (NGG) and Abbott Laboratories (ABT, Fortune 500).
He also likes Procter & Gamble (PG, Fortune 500), which boasts a 3.4% dividend yield, and is benefitting from its significant presence in emerging markets.
While high dividend yields are appealing, Peters warns that yields above 8% aren't very sustainable.
"If the dividend yield gets sky high, especially into the double digits, investors are probably selling the stock and signaling that there may be a real problem with the business," he said.