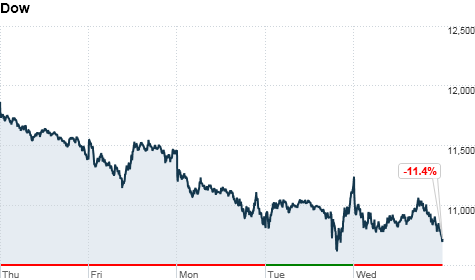 Click the chart for more stock market data.
NEW YORK (CNNMoney) -- Rather than buckling down and waiting for the market's roller-coaster ride to end, investors took their money and ran.
In fact, they yanked more than $14 billion from U.S. stock mutual funds and ETFs in the past week through Wednesday, according to Lipper. That's the most since May 2010, the month when investors were shaken by the May 6 Flash Crash.
The exodus began last week, when the Dow tumbled 512 points on Aug. 4.
Investors came back from the weekend to AA+ credit rating. As investors reacted to Standard and Poor's downgrade, the Dow sank 635 points. It was the worst day on Wall Street since the height of the credit crisis in 2008.
Stocks rallied back Tuesday, only to plunge again on Wednesday.
"An imperfect storm of downgrades, rumors, lackluster macroeconomic data and the ongoing euro zone debt crisis transformed a retreat by investors into something approaching a stampede," said Cameron Brandt, director of research at EPFR, a global fund tracker.
Investors showed particular disdain toward financial stocks, according to TrimTabs, as investors feared that problems at European banks could spillover into the U.S. banking sector.
The Financial Select Sector SPDR Fund (XLF), which tracks the stock prices of financial companies such as Bank of America (BAC, Fortune 500), suffered a loss of $882 million in assets for the week, the firm said.
To take shelter from the turmoil this, investors looked for safety in less risky and volatile assets such as Treasuries, despite low yields and S&P's downgrade.
They poured nearly $48 billion into money market funds, which are heavily exposed to short-term Treasuries, the most since January 2009, and $749 million in broader U.S. Treasury funds, the largest inflow since June 2010, Lipper data showed.
Investors also added $1.6 billion to precious metal funds, as gold prices soared to record highs above $1,800 an ounce.
They parked a bulk of the money in SPDR Gold Trust ETF (GLD) and iShares Comex Gold Trust ETF (IAU), two of the most popular funds for investors seeking exposure to gold.