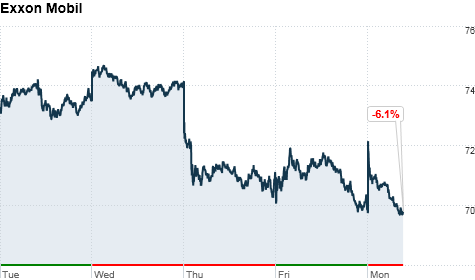 Click the chart to track Exxon Mobil's stock.
NEW YORK (CNNMoney) -- Oil stocks were front and center Monday, after news that Moammar Gadhafi's regime in Libya was on the brink of toppling.
Libya is among the major oil players and the resumption of the country's oil production is expected to put downward pressure on crude oil prices. Brent crude -- the European benchmark -- is down about 1% but U.S. crude has gained some 2% Monday.
Experts estimate that it might take up to three years for Libya to go back to its 1.6 million barrels per day production.
Shares of major oil producers including Exxon Mobil (XOM, Fortune 500), Halliburton (HAL, Fortune 500), Chevron (CVX, Fortune 500) and BP (BP) rose modestly, but gains were capped by fears about the global recovery.
Meanwhile, coal stocks continue to lose ground, reflecting the expected slowdown in Asian economies, most of which run on coal. The Market Vector Coal ETF (KOL) is down almost 20% for the year.
These are among the popular themes on StockTwits Monday:
OptionAssassin: The economy is so bad Exxon laid off 25 congressmen. $XOM
macroQmicro: Getting hosed? Crude #oil futures down 38% since May, average #gasoline price at pump down 9%. $CL_F $UGA
TheArmoTrader: Average WTI price (adjusted for inflation) from 2003-10 = $61.93 ....So far average nominal price in 2011= $96.73. #thoughts $CL_F
CoderTrader: $$ If Libya eventually comes back online, the crack spread should come back down to reality over time. $MACRO $CL_F $USO
StockSage1: Anyone notice that $OIH has now given back all its gains since the Nov 3rd formal FOMC announcement of QE2? $KOL is actually lower.
douglas_blake: $KOL $ANR $WLT $BTU Always amazed to see coal obliterated during corrections. Great example of polling station/scale. $$