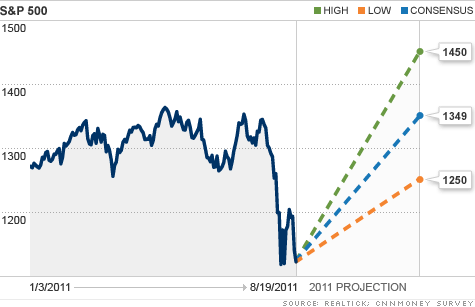 Despite the recent turmoil that has pushed major stock indexes into the red for the year, Wall Street experts are hopeful that the market will soon turnaround.
NEW YORK (CNNMoney) -- The major stock indexes are now down for the year thanks to the turmoil this August, but Wall Street experts are optimistic that the market will stage a comeback soon.
Investment strategists and money managers expect the S&P 500 will rally back almost 20% before the year is over, according to an exclusive CNNMoney survey. They expect the index to finish at 1,349, 7% higher than the start of the year.
In fact, only one of the 17 experts surveyed by CNNMoney thinks the S&P 500 finish in the red in 2011.
While strategists are calling for a pretty stellar run for the last four months of the year, they aren't as optimistic as they were just two months ago. In June, they were forecasting the S&P 500 to end 2011 with double-digit gains and hit 1,382. That would be a three-year high.
So what's changed?
"There's no doubting that we've entered into a much slower growth environment," said Tyler Vernon, Biltmore Capital chief investment officer. "And along with that, our debt has been downgraded and Europe's debt situation has gotten worse. It's really been a perfect storm for a market sell-off in fear."
But, he added that there is at least one constant amid all the uncertainty: corporate profits are still healthy.
"Company balance sheets have stayed really lean and mean since the last financial crisis," said Vernon, whose year-end target for the S&P 500 is right in line with the consensus estimate of 1,349. "Companies haven't hired and profit margins are the highest they've been in history, so they should continue to do fairly well even through this rough patch."
Those sound fundamentals should be enough to bring investors back into the market, especially considering the steep discount stocks are trading at after the recent slides. But Vernon thinks the Federal Reserve will also step in to help give Wall Street a boost.
"It may just be in rhetoric, but I think the Fed has some bullets left, and going into an election year, I think there will be some pressure on Ben Bernanke to keep this market afloat," he said.
But not everyone is so confident.
First off, any action from the central bank will be taken with a gain of salt, said Weeden & Co. market strategist Steven Goldman. Each additional measure the Fed takes to stimulate the economy and perk up the stock market has less impact than the last, he added.
Plus, while the stock market used to be able to get by "in the olden days" with just a clean bill of health in the United States, Goldman said it's not that easy anymore.
"My worst concerns about Europe's financial crisis have come to fruition," said Goldman, whose year-end target puts the S&P 500 at 1,250 -- a couple of points below where it ended in 2010. His previous forecast put the S&P at 1,390 by the end of the year.
"We could have managed if the crisis were contained to Europe's smaller countries, but with Italy and Spain in the picture, the United States is going to feel an external shock," he added.
In addition to global economic concerns, Goldman said the market's violent swings during the last couple of weeks will also continue to weigh heavily on investor sentiment.
The only way to restore some confidence is if Washington lawmakers realize how "dysfunctional" their debt ceiling debate was, and come back with a budget plan that offers some stimulus in the short-term and cuts the deficit over the long-term, said Marc Pado, U.S. chief market strategist at Cantor Fitzgerald.
"The government really put a knife in the back of investor and corporate optimism, but if Democrats and Republicans can agree on an aggressive budget plan, we can get rid of their nervousness," Pado said.
And without fear in the market, the S&P 500 can rally back as much as 29% over the next several months to end 2011 up more than 15% at 1,450, he said.
But that's putting a lot of faith in Washington.