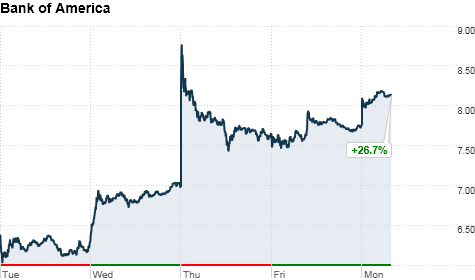 Click the chart for more data on Bank of America.
NEW YORK (CNNMoney) -- Bank of America's continued efforts to recapitalize have been able to calm investors' minds in the last few days.
After raising $5 billion from Warren Buffett's Berkshire Hathaway (BRKB) last week, Bank of America (BAC, Fortune 500) announced on Monday that it agreed to sell 50% of its stake in China Construction Bank.
The $8.3 billion deal is expected to generate a $3.3 billion after-tax gain for the banking giant. Shares of BofA rose more than 5% on the news and are now 35% above the 52-week low hit last week.
Meanwhile, the Greek stock market rallied 11% on the announcement that the second and the third largest banks in the country agreed to merge. Shares of the National Bank of Greece (NBG) jumped more than 30%.
As many parts of the East Coast are rejoicing the return of electricity, shares of major insurance companies charged higher. The damages from Hurricane Irene were much smaller than expected. Allstate (ALL, Fortune 500) shares rose 6%, while Travelers (TRV, Fortune 500) was up more than 4%.
These are some of the popular discussion topics on StockTwits on Monday:
oktobernv: $BAC Agrees to Sell 13.1 Billion Shares of China Construction Bank; sale expected to generate $8.3 bln in cash
Street_Insider: National Bank of Greece $NBG up 32% in U.S. trading following merger of Greece's second and third largest banks, Alpha Bank and EFG Eurobank
gferrari: Funny how $NBG and $BAC are "Trending Now" - Why weren't they "trending" a week ago when everybody hated them & were obviously undervalued?
ppearlman: $ALL $TRV both up big. Precisely why I said don't short insurance on Friday... 1 for the actuaries...
winning_trades: Hurricane play: Looking like the damage is not as bad as expected- possible long in insurers. $TRV http://chart.ly/46obesm