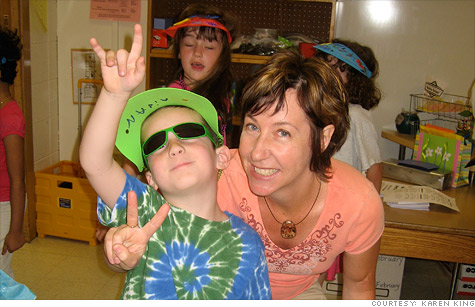 Karen King wasn't happy when her hours and pay were cut by 25%, but now she's happy she has time to volunteer at her son Aidan's school.
NEW YORK (CNNMoney) -- Unemployment remains a huge concern, but the underemployment problem isn't as bad as it used to be. Fewer part-time workers are looking for full-time work -- because they don't mind working part-time after all.
Since hitting a peak of 9.5 million last September, the number of part-time workers who tell the Labor Department they are doing so for economic reasons rather than personal reasons has dropped to 8.4 million in July.
"It's not massive, but there is a marked drop during a period when we're not seeing an increase in hours," said Heidi Shierholz, labor economist at the Economic Policy Institute.
The vast majority of part-timers, defined as those who work less than 35 hours a week, are happy with their status. Those who would prefer full-time work make up only 31% of all part-time workers, according to the Labor Department.
That's still a lot higher than the 19% of part-timers who wanted a full-time job before the start of the Great Recession. But it's a modest improvement from the peak of 34% last September.
But economists don't have a definitive answer for why more part-timers are content to work fewer hours.
Part of it could be that workers who had been looking for full-time work have now decided they prefer the flexibility of a part-time schedule.
Shawn Boyer, CEO of SnagAJob, a job posting site for hourly positions, thinks some part-timers are discovering the advantages that go with the disadvantage of smaller paychecks.
"You get a person who didn't have a choice but to go into part time, and after adjusting to the lifestyle, they realize they have more of a work/life balance," said Boyer.
That was the case for Karen King, a suburban Chicago marketing executive for a midsize specialty retailer. When she had her hours -- and her salary -- cut by 25% in early 2009, she thought it was a disaster for her and her family.
"I was angry, I was bitter, I took it personally. I felt like I was taken advantage of," King recalled.
But soon she decided it was the best situation, even if it put a crimp in the family budget.
"I finally figured out the balance since it was forced upon me," she said.
Julia Claire was someone else who found herself changing her attitude about working part-time. A 2007 law school graduate who never intended to work part-time, she had trouble finding full-time work as the economy slowed that year.
So she started working for temp agencies that placed attorneys with firms for limited hours to help with big cases or big projects. She soon decided the part-time lifestyle was a better fit.
"When I saw the crushing schedules that firm attorneys are subjected to, I didn't think that's the way to live," she said. "I got used to living on less, and I found I was happier. My life was less complicated."
She recently started her own placement firm, Hire an Esquire, to help other lawyers who would prefer to be working on a part-time schedule.
Some employers say they actually have trouble convincing their part-timers to shift to full-time work. Eric Morgan, who runs Adaptivity Pro, a web design/Internet marketing business, said it would be easier to manage his staff if more of his 15 part-timers would want to work full-time.
He said some workers are spreading their hours between different employers and want to keep that flexibility. Others are students or semi-retired workers who are only willing to work a limited number of hours a week.
Another possible reason for fewer disgruntled part-timers may be (as amazing as it sounds in this job market) that more workers who had been on part-time hours who have finally found full-time jobs.
Despite continued high unemployment, businesses have created 1.6 million jobs since last September. And those with jobs, even part-time jobs, often have an edge when competing for jobs with the 13.9 million unemployed job seekers.
"We've also seen people who have taken part time jobs in different industries where they didn't have any experience before the downturn. They discovered they like the industry, they're good at it, and they've moved into full-time jobs," Boyer said.