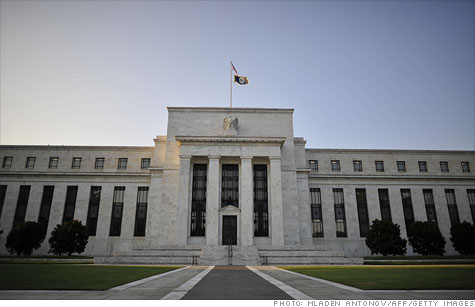 Stock market volatility and falling consumer confidence are major concerns for businesses, according to the Federal Reserve's Beige Book released Wednesday.
NEW YORK (CNNMoney) -- "Slow," "subdued," "sluggish."
Those were some of the words that the dozen Federal Reserve districts used to describe the economy. It is clear that uncertainty still reigns for businesses across the country.
Companies surveyed by the Federal Reserve said they're growing more cautious given recent stock market volatility and falling consumer confidence. The Fed regularly polls businesses in each of its 12 regions and reports its observations in what it calls the Beige Book report.
The latest Beige Book released Wednesday shows economic activity slowed in the Chicago, Richmond and Philadelphia regions, and continued at a sluggish pace in other districts.
In many parts of the country, manufacturing activity slowed, the housing market remained weak and demand for both business and consumer loans stayed low.
On the flip side, businesses did report more consumer spending, solid tourism activity and higher auto sales.
They remain wary however, that consumer confidence is falling due to wild stock market swings, which could soon take its toll on demand for goods and services.
Some districts also reported a shortage of skilled workers such as engineers, mechanics, and software developers. Other districts said firms are more focused on increasing productivity or opting for temp workers, rather than hiring new full-time staff.
The report comes a day ahead of a speech on the economy from Fed Chairman Ben Bernanke and highly anticipated jobs proposal scheduled to be announced by President Obama Thursday night at 7 p.m. ET.
Fed watchers are looking for hints that the central bank may take action to prop up the economy, beyond its current policy of keeping interest rates low for the next two years.
Earlier Wednesday, Chicago Fed President Charles Evans made his case for further Fed stimulus, arguing that the central bank should be focused more on spurring job growth than controlling inflation.
"We again find ourselves with a weakened economic outlook and again trying to decide what further accommodation to provide," he said in a speech. "I'm sure everyone will agree that we seriously don't want to be in this position again at this time next year. I believe that means we need to take strong action now."
Further monetary stimulus would be a controversial move though. The Fed discussed its options for stimulus at its August meeting and at least three regional presidents spoke out against such a move.
The Federal Reserve's policymaking committee is next scheduled to meet September 20-21.