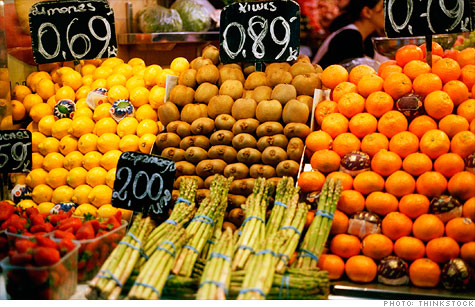 Food prices are up 4.2% and gas rose 33.6% over the last 12 months. Stripping out those items though, consumer prices are up 1.8%, according to government data released Thursday.
NEW YORK (CNNMoney) -- Americans paid more for necessities like gas, food, clothing and shelter in July, as prices rose more than expected over the month.
The Consumer Price Index, the government's key inflation measure, rose 0.5% in July, led by a 4.7% increase in gas prices.
That's worrisome, said Daniel Penrod, senior industry analyst with the California Credit Union League, considering many Americans are still struggling amid high unemployment and low home prices.
"We're looking at a situation where income isn't growing, so large price jumps right now without job growth and income growth behind it, basically mean that consumers are looking at more of their money going out the door at a time when less of it's coming back in on an income side," Penrod said.
Food prices rose 0.4% and the cost of shelter rose 0.3% in July.
Higher clothing prices, predicted by the industry earlier this year, have also taken hold. Apparel prices rose 1.2% in July alone, and over the last three months, are up 3.9%. Over the entire year, apparel prices have increased at their fastest rate since 1992.
Part of that rise could still be due to cotton prices hitting a record high in March, following supply shortages. The weak dollar is also driving prices for imports, including clothing, higher, said Jennifer Lee, senior economist with BMO Capital Economics.
"We import a lot of clothing from China for example, and a weak dollar means it costs more to ship to bring these goods over to the U.S." she said.
Economists hadn't expected the overall CPI number to come in as high as it did. Forecasts, according to a survey from Briefing.com, were for a 0.2% rise in July.
Overall, consumer prices have risen 12 of the last 13 months, despite a one-month blip downward in June, and compared to a year ago, consumers are paying 3.6% more for goods and services.
Year-over-year, gas prices are still up 33.6%, even after falling slightly from their highs in May. Food prices are up 4.2% from a year ago.
Both gas and food can be volatile though, so economists also look at a separate measure to better gauge inflation trends.
So-called core CPI, which strips out those components, rose 1.8% over the last 12 months, and 0.2% in July alone, in line with economists' expectations.
The Federal Reserve's comfort zone is for a core inflation rate to remain between 1% and 2% a year.