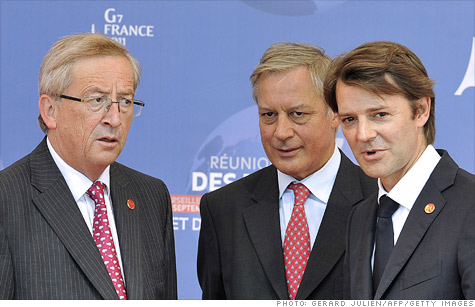 Eurogroup's chairman Jean-Claude Juncker (left) with France's finance minister Francois Baroin (right) and central bank governor Christian Noyer (center) before G7 meeting Friday.
NEW YORK (CNNMoney) -- Finance officials from the world's largest industrialized nations pledged Friday to work together to support the sputtering global economy.

The Group of Seven issued a brief statement as finance ministers and central bankers kicked off a two-day meeting in Marseille, France.

"We meet at a time of new challenges to global economic recovery with significant challenges to growth, fiscal deficits and sovereign debt stemming from past accumulated imbalances," the G7 said. "This is reflected in heightened tensions in global financial markets."
Indeed, stock markets in Europe and the United States plunged between 3 and 4 percent Friday. Yields on U.S. Treasuries and German bunds fell to record lows as investors sought safety in safe haven assets.
Much of the turmoil was driven by a lack of confidence in the ability of policymakers to boost economic activity and resolve long-standing government debt problems in Europe.
But the G7 officials said they are "committed to strong and coordinated international response to these challenges."
The statement said the plan President Obama unveiled this week to boost hiring and employment represent "strong steps" toward economic improvement.
The G7 also said euro area governments remain committed to measures they agreed to in July to contain the debt crisis and stabilize their common currency.
Euro area governments will vote in the coming weeks on a proposed expansion of the European Financial Stability Fund. The measure is a key aspect of the plan to prevent a wider debt contagion in Europe.
In addition, the statement reaffirmed European leaders' "inflexible determination" to honor their plans to reduce deficits and enact reforms to bring down unsustainable levels of debt.
The meeting took place as the global economic outlook has darkened and the sovereign debt crisis in Europe has intensified.
Economic growth in the G7 economies excluding Japan will increase at an annual rate of less than 1% in the second half of 2011, the Organization for Economic Cooperation and Development said Friday.
While growth has held up in many emerging economies, most industrialized nations have been hurt by a lack of business and consumer confidence, the OECD said.
The recent slowdown, coming as the global economy continues to recover from the 2008 financial crisis, has raised fears that some G7 economies could fall back into recession.
In Europe, officials have been struggling to calm jittery financial markets as fears of a default by Greece have resurfaced. Many investors have lost confidence in the ability of European policy makers to resolve the long-running crisis in Greece and are worried that Italy could face similar challenges.
The European Central Bank lowered its forecast last week for economic growth in Europe this year and next. It now expects growth of only 1.4% to 1.8% in 2011, and between 0.4% and 2.2% in 2012.
In an op-ed published Thursday in the Financial Times, U.S. Treasury Secretary Tim Geithner said world leaders should not let "political paralysis" prevent them from taking steps to support the global economy.
"The question is not whether we have the economic or financial capacity to act to strengthen growth, but whether we have the political ability to do the right things," the op-ed read.
President Obama announced a set of proposals last week to boost hiring and employment. But the package of tax cuts and infrastructure spending are expected to face stiff resistance from Republicans in Congress.
The G7 also indirectly urged China to allow its currency to trade more freely in global foreign exchange markets.

In the statement, the G7 reaffirmed its commitment to "market determined exchange rates" to maintain the stability of the global financial system.
Washington has complained that Beijing manipulates its currency to gain an unfair advantage in global trade.
The G7 consists of the United States, France, Germany, Italy, Japan, the United Kingdom and Canada.
The meeting sets the stage for a three-day summit of finance officials from the Group of 20 economic powers starting Sept. 22. The G20 will discuss ways to support hiring and employment in the global economy.