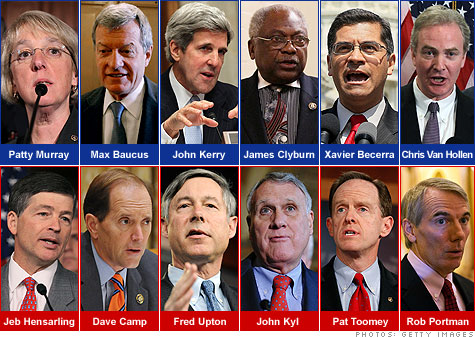 NEW YORK (CNNMoney) -- When it comes to cutting deficits, don't play small ball.
That was the message Monday in a letter to Congress' national debt super committee from a group of more than 60 leading economists, budget experts, former Treasury secretaries and former lawmakers.
"We urge you to 'go big' and develop a large-scale debt reduction package sufficient to stabilize the debt as a share of the economy," the letter to the super committee said.
Easier said than done, of course, given the deep partisan divide over how best to reduce deficits. And it doesn't help that the super committee will have to work super fast -- with just 11 weeks to turn out a bill for consideration in the House and Senate.
Fiscal experts estimate that to stabilize the debt held by the public at today's level -- roughly 67% of GDP -- by the end of the decade, lawmakers would need to institute about $4 trillion worth of deficit reduction over 10 years.
If the committee only recommends $1.5 trillion in deficit reduction, the country's accumulated debt will still be on track to grow faster than the economy indefinitely.
Getting to $4 trillion is not really feasible unless lawmakers curb growth in entitlement program spending and reform the tax code.
Those are the only ways to address main drivers of the country's growing debt problem: unsustainable growth in health care costs, an aging population and an already wide and growing gap between spending and revenue.
"We believe that a go-big approach ... is necessary to bring the debt down to a manageable and sustainable level, improve the long-term fiscal balance, reassure markets and restore Americans' faith in the political system," the letter said.
Signing the letter were a number of former lawmakers from both sides of the aisle, including Republican Judd Gregg and Democrat Bob Kerrey, as well as a bipartisan bevy of former presidential economic advisers, including Christina Romer, Martin Feldstein and Glenn Hubbard.
The letter was also signed by former Treasury secretaries Robert Rubin and Paul O'Neill, as well as Erskine Bowles and Alan Simpson, who co-chaired President Obama's 2010 fiscal commission.
Several fiscal experts rounded out the group. Among them: William Gale of the Brookings Institution and Maya MacGuineas of the nonpartisan Committee for a Responsible Federal Budget, which organized the letter.
Next week, President Obama will send the super committee his proposal for how to reduce the debt over time, and he's promised it would be big enough to stabilize the debt in the long run.
If the 12-member bipartisan committee fails to produce a bill by Nov. 23 or agrees to less than $1.2 trillion in debt reduction, automatic spending cuts across much of the federal budget will be triggered starting in 2013.