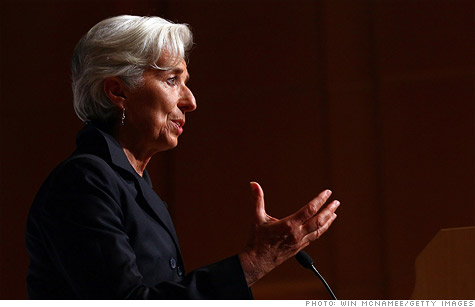 IMF director Christine Lagarde speaks at the Woodrow Wilson Center in her first public address since her appointment Sept. 15, 2011.
NEW YORK (CNNMoney) -- The International Monetary Fund has lowered its global growth outlook, warning that "the global economy is in a dangerous new phase."
The IMF, a global financial institution comprising 187 nations, released excerpts from the latest edition of its World Economic Outlook Tuesday, ahead of its fall meeting in Washington this weekend.
It now expects the world's economic output to increase 4% in both 2011 and 2012, compared with growth of 5.1% in 2010. In June, the IMF had forecasted slightly more robust growth rates of 4.3% for this year.
The IMF also sharply reduced its forecast for economic growth in the United States this year to 1.5%, down from 2.5% in June. It also lowered its expectations for growth in 2012 to 1.8% from 2.7%.
"Overall, global growth is continuing, but slowing down," IMF managing director Christine Lagarde said in a speech last week. "The advanced countries in particular are facing an anemic and bumpy recovery, with unacceptably high unemployment."
While the IMF expects the global economy to chug along at a sluggish pace, the fund said there are a number of risks that could tip the United States and Europe back into a recession.
Lagarde has urged global leaders to take "collective, bold action" to prevent major economies from stalling.
In its report, the IMF called on European Union policymakers to quickly implement measures proposed in July to contain the eurozone's debt crisis.
The fund said euro area nations must honor commitments to enact long-term fiscal reforms and the European Central Bank should lower interest rates if the crisis continues.
Meanwhile, the IMF urged officials in the United States not to harm the nation's economic recovery by cutting public spending too aggressively in its effort to bring down deficits.
"There is a serious risk that hasty fiscal cutbacks will further weaken the outlook without providing the long-term reforms required to reduce debt to more sustainable levels," said the IMF in its report.
The United States is also facing increased risks from the weak housing market, as well as deteriorating consumer and business confidence. On top of that, government leaders did little to inspire confidence during last month's deficit debate.
"Deep political divisions leave the course of U.S. policy highly uncertain," said the IMF.
The IMF said the Federal Reserve, which starts a two-day policy meeting on Tuesday, should be prepared to provide additional support for the economy if conditions worsen.
After emerging from the 2008 financial crisis and recession, the global economy was hit by a series of shocks in the first half of 2011.
The devastating earthquake and tsunami in Japan caused widespread supply disruptions and the Arab spring political uprisings led to a spike in oil prices.
But those temporary shocks have given way to more fundamental issues, including unsustainable levels of debt and poetical challenges to resolving long-term deficit problems.
"The structural problems facing the crisis-hit advanced economies have proven even more intractable than expected, and the process of devising and implanting reforms even more complicated," the IMF stated.
In the developing world, the IMF expects economic growth to remain robust, albeit with increased risks.
China, the world's second-largest economy, is forecast to expand at a blistering 9.5% rate this year. But the IMF lowered its 2012 outlook for China to 9% from 9.5%, citing declining foreign demand and government policies aimed at preventing a hard landing following a period of rapid expansion.