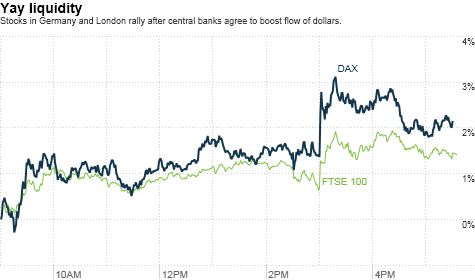 European banks need more capital to really avoid a credit crunch.
NEW YORK (CNNMoney) -- A coordinated move by five major central banks Thursday helped calm fears in global financial markets about the shaky European banking system.
But experts say the outlook for European banks is still murky since the sector is considered to be woefully undercapitalized.
The European Banking Authority said in July that eight banks will need a total of €2.5 billion to survive a serious downturn. The so-called bank stress-tests also revealed that 16 other lenders met the minimum capital requirements but still need to raise more money.
"The banks still need to be recapitalized," Dino Kos, director of economic consultancy Hamiltonian Associates and a former New York Fed official, said at the Bloomberg Markets 50 Summit in New York Thursday.
The big concern is that the European banks could be dragged down by the turmoil in global financial markets as European Union officials struggle to come up with a solution to the eurozone's long-running debt crisis.
Still, investors welcomed the central banks' plan to make more dollars available to banks in Europe that have been struggling to obtain short-term loans in the U.S. currency. Stocks in London (UKX), Frankfurt (DAX) and Paris (CAC40) rallied between 2% and 3%, while U.S. stocks gained about 1%.
"The fact that they acted together is big news," said David Blanchflower, a professor of economics at Dartmouth and a former advisor to the Bank of England.
Blanchflower said central banks have tried, and failed, to act as a group on other occasions following the last major coordinated action in 2008.
The move announced Thursday is encouraging because it "sets the stage" for coordinated action on fiscal policy in the future, Blanchflower added.
Finance ministers and central bankers from the world's largest economies will meet next week in France to discuss the global economy.
While Thursday's move will help ease short-term funding pressures for some European banks, economists say more needs to be done to ensure banks have sufficient capital to withstand the shock of a sovereign default.
Moody's downgraded two major French banks earlier this week, saying Societe Generale and Credit Agricole could face difficulties raising funds. However, the ratings agency said both banks have the wherewithal to absorb significant losses on government bonds.
Kos said many banks based in the most troubled European nations would be insolvent if their portfolios of government bonds were priced at current market rates. He added that even some banks in larger European nations would need to be recapitalized by the government under the same scenario.
At the same time, the central bank action was "absolutely necessary" to provide much needed U.S. dollars for European banks without the "stigma" associated with emergency borrowing from central banks, said Kos.
But he added that governments may ultimately need to come up with a comprehensive plan to shore up European banking system.
"It's necessary but doesn't address the other major issues," he said. "There needs to be some mechanism to inject capital into these banks."