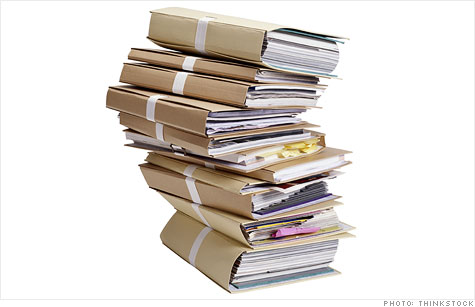 The bipartisan debt committee has no shortage of proposals to draw on. But finding common ground remains a struggle.
NEW YORK (CNNMoney) -- Speak about not having to reinvent the wheel.
Members of the bipartisan debt committee have no fewer than 32 debt reduction plans at their disposal.
All they have to do is call up a plan comparison table put together by the nonpartisan Committee for a Responsible Federal Budget.
The table offers plans from the far left to the far right and everything in between.
It also illustrates common ground in proposals from budget experts and President Obama's fiscal commission.
Among the shared recommendations:
a gradual increase in the retirement age for future retirees;
higher cost-sharing in Medicare;
comprehensive tax reform that uses some revenue for deficit reduction;
reduced defense spending;
a change in how government benefits are adjusted for inflation;
and slower benefit growth for high-income workers.
Unfortunately, there is little common ground in plans offered by Congress' most liberal and conservative factions who actually have a vote on the matter.
CNNMoney did a quick comparison of eight of the plans -- evenly divided between left and right. Six were from individual members or groups in the House and Senate, and the other two were from right- and left-leaning think tanks.
Many of the recommendations the plans did share were fairly underwhelming from a debt- reduction perspective. Some would even raise deficits unless offset by revenue increases or spending cuts.
Among the partisan plans' shared recommendations: reducing farm subsidies, extending most if not all of the Bush tax cuts and continuing to protect doctors from legally slated cuts to reimbursement.
The plans also called for changes to the tax code. The common thread there was curbing at least some tax breaks but preserving the ones for charitable deductions, mortgage interest and business research and development.
Many also called for at least some slowdown in defense spending growth.
But those commonalities alone aren't anywhere near enough to lasso the country's long-term debt issues.
The problem is that the far sides of the aisle are being driven by an increased ideological purity that doesn't lend itself to compromise, according to the Urban Institute's Rudolph Penner.
"You can't find enough people in the middle to form a majority for anything," Penner, a former director of the Congressional Budget Office, said in a speech to economists last week.
And that doesn't bode well for the country, according to Kimo Harris, a CNNMoney reader who commented on a recent article.
"When compromise and goodwill is readily dismissed, when hardened ideologies give life to conspiracy theories and unsubstantiated accusations, when debate and conversation is riddled with personal attacks instead of genuine rebuttal, we are no longer working toward a better future," Harris wrote.
The comment was posted in response to a commentary that is part of CNNMoney's Project Compromise. The project aims to bring together leading thinkers from the left and right who are willing to explore where they can agree on how to address the national debt.
If the debt super committee dares to 'go big' and recommend at least $4 trillion in deficit reduction over 10 years, instead of the group's minimum $1.2 trillion target, they'll need all the common ground they can find.