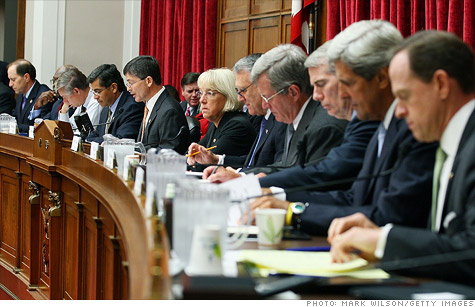 The 12-member bipartisan debt committee has until Nov. 23 to make its recommendations for deficit reduction to Congress.
NEW YORK (CNNMoney) -- The congressional debt committee has a fairly straightforward goal: Propose at least $1.2 trillion in deficit reduction.
It can do it the easy way, or the hard way. If lawmakers want to make a difference, they should pick the hard way.
With next month's deadline looming, the panel may be tempted to go the easy route by offering up what are in essence fake savings.
For instance, they could take credit for spending reductions already baked into the cake. Or they could recommend measures that Congress is very unlikely to stick to.
Claim war savings: Plans are already in place for the United States to start drawing down its efforts in Iraq and Afghanistan over the next several years.
Some, including President Obama, have claimed the drawdown will reduce deficits by $1 trillion over the next decade.
But those are only "savings" compared to a scenario in which the country continues its efforts full throttle every year over the next decade -- something no one expects.
"I fervently hope they won't claim $1 trillion in war savings," said the Urban Institute's Rudolph Penner, a former director of the Congressional Budget Office.
Cut doc pay further: Under the law, Medicare reimbursements to doctors must be reduced whenever those payments exceed a certain target. Since 2003, that target has been exceeded but Congress has routinely put in a temporary "doc fix" to prevent the pay cuts.
Bottom line: Any big cuts to reimbursements the committee proposes probably won't ever come to pass.
That's why Penner hopes the debt committee doesn't go there. As it is, reimbursements are already slated to fall about 30% next year, and many expect Congress won't let that happen.
Delay savings: Fiscal hawks have cautioned that lawmakers shouldn't cut spending too fast lest they upend the economy.
But that doesn't mean postponing all of the cuts until the end of the decade.
"They get to $1.2 trillion in savings, but don't impose pain until 2017 or so when ... many of them will be gone," Penner said during a speech at the National Economists Club last week.
Accelerate income, postpone costs: The committee's proposals will be measured by how much savings they achieve in the next decade.
There are ways to make those savings look bigger than they really are. For instance, the committee could take credit for revenue scheduled to come in after the 10-year window. Or it could push government payments outside the 10-year window.
"It's a total gimmick," said Bob Bixby, executive director of the Concord Coalition, a deficit watchdog group.
Juice up assumptions: A measure to reduce deficits not only cuts spending or raises revenue. It also reduces future interest costs, because a spending cut or tax increase will reduce the government's need to borrow.
One budget filler technique would be to inflate assumptions about how much interest the panel's recommendations would save, said Sean West, director of U.S. fiscal policy analysis for the Eurasia Group.