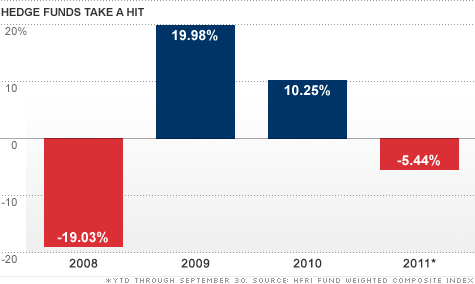 On average, hedge funds are down 5.4% for the first nine months of the year, according to HFR's benchmark index.
NEW YORK (CNNMoney) -- Feeling blue about the hit your portfolio took last quarter? You're not alone. Hedge funds also had a lousy third quarter, delivering one of the worst performances on record.
The summer's stomach-churning roller coaster ride throughout all markets , including stocks, bonds, commodities and currencies, triggered a loss of $85 billion in capital for the hedge fund industry during the three month period ended Sept. 30, according to industry tracker Hedge Fund Research.
The group's HFRI Fund Weighted Composite Index, a benchmark index for the hedge fund industry, dropped more than 6%, making it the worst quarter since the fourth quarter of 2008, and the fourth worst on record.
"The third quarter presented an extremely challenging performance environment, with asset volatility in many respects on par with financial crises in 2008 and 2009," said Kenneth Heinz, president of Chicago-based HFR.
The quarter's beating destroyed the gains logged by hedge funds during the first half of the year. On average, hedge funds are down 5.4% for the first nine months of the year, according to HFR's index.
Even some all-star managers like John Paulson are getting steamrolled.
The investment guru's primary fund, the Advantage Plus Fund, is down more than 30% in 2011. Those kind of losses can be pretty uncomfortable for a hedge fund manager who earned his fund billions when he bet against the housing bubble.
A spokesperson for Paulson & Co. declined to comment.
Despite the dismal performances, about 40% of hedge funds continued to draw in client money for a ninth straight quarter, albeit at a much slower pace. In total, the industry experienced net inflows of $8.7 billion during the third quarter, according to HFR.
During the first half of the year, when hedge fund assets shot up to new record levels above $2 trillion, the industry raked in about $30 billion each quarter.
"The hardest part of the third quarter was that everything was correlated--similar to what we saw in 2008, " said Christopher Zook, chief investment officer at CAZ Investments. "September was an especially painful month, when the only asset that rallied was U.S. government bonds. Even gold did poorly."
Zook, who has about $150 million sloshing around in hedge funds, continued to add to his investments during the last three months, noting that a rocky performance isn't enjoyable, it's also expected from time to time.
He said he's "comfortable" adding to his firm's exposure to hedge funds, including Paulson's.
"[Paulson's] fund has been a wonderful investment over long period's of times, and even when he's underperformed in the past, he's addressed the issues," said Zook, who has been invested in Paulson's funds since 1994. "This time around, Paulson was simply too bullish."
As they attempt to recover from the quarter's wounds, Zook said hedge funds will fall into two camps. On one end, there will be fund that won't change a thing and hope to bounce back with the market, or continue to struggle with it.
On the other end, there will be those that will shift around their assets to protect themselves on downside, and in turn, give up some of the share on the upside.