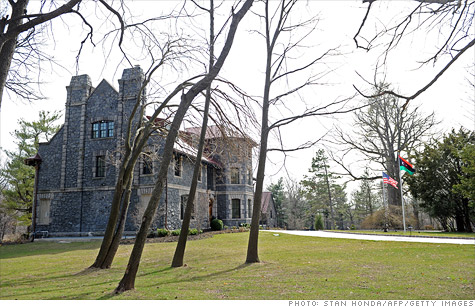 Libyan mansion is home to Libya's U.N. ambasador and long a sore spot for Englewood, N.J.
WASHINGTON (CNNMoney) -- When Libya first bought a 25-room, 1906 mansion in suburban New Jersey, the community was in an uproar.
Now, for the first time in nearly 30 years, the mansion known as Thunder Rock may get a little more love -- if it's used to help usher in a new era of what many hope to be peaceful relations between the United States and Libya.
Valued at $5.6 million by the county tax assessor's office, the mansion was not among assets frozen by the U.S. Treasury Department earlier this year. The mansion has been granted embassy-like status, serving as a New York-area home to the Libyan ambassador to the United Nations.
But the statuesque house, which could pass for a stone castle or a manor, has long been a sore spot in Englewood, N.J. -- especially after the bombing of Pan American flight 103 over Lockerbie, Scotland, in 1988.
"I was afraid Gadhafi was going to motorcade up Palisade Avenue and we were going to have armed conflict in Englewood, with the blood of Americans being on his hands," said Rep. Steve Rothman, a New Jersey Democrat who was mayor when Libya bought the 4.7 acre property in 1982.
At several points during the last 30 years, Rothman has worked on deals with the Reagan and Obama administrations, and with the United Nations to prevent Gadhafi from stepping foot in Englewood.
The most recent deal may have prevented Gadhafi from sleeping in a Bedouin tent on the mansion's lawn during his 2009 visit to address the United Nations. Gadhafi ended up in a Manhattan U.N. apartment.
The mansion is currently serving as a second, quasi-summer home to Abdurrahman Mohamed Shalgham, Libya's ambassador to the United Nations. Shalgham was Gadhafi's U.N. ambassador and was among the first to defect to the opposition movement, publicly denouncing the "brutality" of Gadhafi back in February.
United Nations ambassadors are allowed to have homes within 25 miles of New York City, which is why the mansion has been given embassy-like status.
But that didn't stop the city of Englewood from going to court to try to force the Libyan government to pay property taxes, a battle it won in the lower courts but lost in federal appeals court in 1985.
When Treasury announced sanctions and freezing assets, Englewood Mayor Frank Huttle told the Bergen Record he wanted to look into pursuing legal action against the Libyans again.
"I continue to explore all options on the property tax status. I look forward to working with a new Libyan government," Huttle said.
But now, with the Transitional National Council taking over Libya, anything could happen. The mansion could get more use. Or the new Libyan government could decide to sell it.
Rothman said he expects it will continue as a residence and he welcomes the change for the Libyan people.
"Our 28-year-old agreement between the U.S. and Libya that kept Gadhafi out of the Englewood mansion for all that time was quite effective," Rothman said. "I expect that unless the Libyans change their minds and wish to relocate, the ambassador will continue to occupy that home."