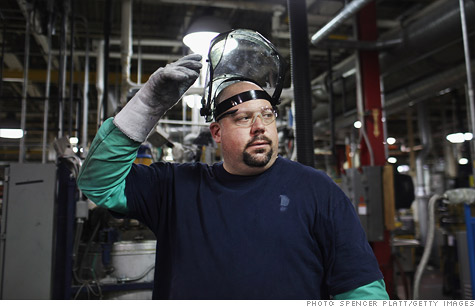 NEW YORK (CNNMoney) -- Manufacturing growth seems to be slowing in the world's two largest economies, according to data released Tuesday.
The Institute for Supply Management, a purchasing managers group, said Tuesday its manufacturing index registered 50.8 last month, down from 51.6 in September.
As long as the index remains above 50, it indicates growth in the sector. The index has managed to stay above that level for 27 straight months, but continues to flirt with stall-speed growth.
Producers reduced their inventories in October, leading partially to the slower growth.
"Producers are watching and controlling inventories really carefully," said John Silvia, chief economist at Wells Fargo. This "reflects lots of uncertainty out in the marketplace," he added.
The good news is, the sector continued to add jobs in October, albeit at a slightly slower pace. Also, new orders for manufactured goods swung from contracting since June to expanding in October. Both of those things can be interpreted as good signs that manufacturing activity will continue to grow.
Manufacturing has been spotty by region. Separate reports earlier this month showed growth slowed at Chicago manufacturers and actually contracted in the New York area. But growth accelerated in the Philadelphia and Dallas regions.
The Chinese government also released a reading on its manufacturing sector Tuesday, indicating China's growth slowed to a three-year low in October.
But because the report did not include seasonal distortions, economists question the validity of the data. Just last week, a separate China Purchasing Managers' Index, compiled by HSBC, showed growth in the manufacturing sector sped up to a five-month high in October.