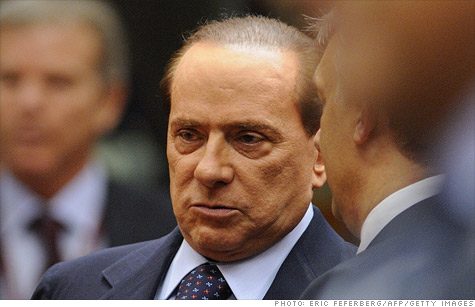 Italian prime minister Silvio Berlusconi is planning to ask for a vote of confidence next week on reforms aimed at lowering the country's debt.
NEW YORK (CNNMoney) -- Confusion about Greece's referendum plans and its role in the eurozone sparked turmoil in the Italian bond market Thursday.
The yield on the 10-year Italian bond rose to 6.4% overnight, the highest level since Italy joined the euro.
Yields eased a bit on hopes that Greece will scrap its plan for a referendum. The European Central Bank's decision to cut interest rates for the first time in two years also lifted market sentiment.
But yields still remain above 6%.
"Whether at 5.5% or 6.5%, these are scary looking yields," said Andrew Milligan, head of global strategy at Standard Life Investments in Edinburgh, Scotland.
Experts say the lofty levels are particularly concerning because the ECB has been buying Italian bonds since the start of August. The move initially pushed yields below 5% but that was short lived.
"We have to wonder where yields would be without ECB intervention, and how long can you have a situation in which the ECB is the lender of last resort, even though it doesn't want to be," said Gary Jenkins, head of fixed income, at London-based Evolution Securities.
Because of the size of Italy's economy -- the third-largest in the eurozone behind Germany and France -- and its staggering €1.9 trillion in debt, experts say it is a much bigger problem than Greece.
"Greece is annoying, but Italy is way too big to bail out," said Jenkins. And as bond yields continue to climb, experts are watching closely.
When Greek, Irish and Portuguese bond yields topped 7% for an extended period, they required bailouts, notes Jenkins. While 7% is not a fundamental or technical level of any kind, it does signal a "major problem."
However, it's likely the ECB will continue to buy Italian bonds to keep the situation from deteriorating too much further. The bond buying program hasn't been a popular one, prompting one top banker to resign in September.
"When it comes to Italy, there aren't a ton of choices. If Italy can't raise money, the consequences would be horrific," said Jenkins. "So the ECB will keep propping Italy up as long as it has to, and hope that the combination of economic growth and austerity measure will improve the situation, and give investors enough confidence to buy Italian bonds again."
But it's likely remain a "fragile" situation for years.
Italian prime minister Silvio Berlusconi is planning to ask for a vote of confidence next week on reforms that his cabinet agreed to Wednesday aimed at lowering the country's debt.
-- CNN's Hada Messia and Kendra Wates contributed to this report.