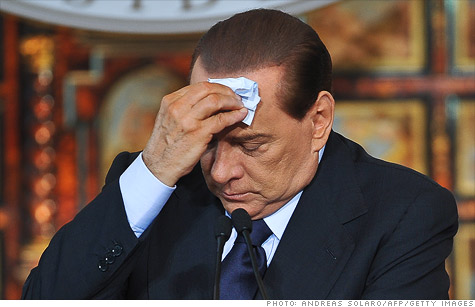 Italian Prime Minister Silvio Berlusconi is under heavy pressure to resign, as parliament narrowly passes budget reforms.
NEW YORK (CNNMoney) -- Italy's borrowing costs remain in the danger zone near 7%, even after embattled Prime Minister Silvio Berlusconi announced he would resign after the next budget is passed by parliament.
Italian 10-year bond yields remained well above 6% Tuesday, closing out the day at 6.77% -- its highest close since the euro was launched in 1999.
Berlusconi's announcment came just hours after the Italian parliament passed a crucial vote on budget reforms but experts say more is needed.
"Italy will not be out of the heat of bond markets until a solid and stable government actually implements austerity and undertakes reforms with strong credible leadership," said Jan Randolph, head of sovereign risk at IHS Global Insight.
Tuesday's yield remains uncomfortably close to the 7% benchmark that could herald a bailout, despite the European Central Bank's bond-buying spree. A 7% yield is not an automatic bailout trigger, but it is the same level that prompted bailouts for Portugal and Ireland.
"We believe that policy reforms in Italy are necessary," said Barclays analysts in a research note. "However, historical experience suggests that the self reinforcing negative market dynamics that now threaten Italy are very difficult to break. At this point, Italy may be beyond the point of no return."
Italy, Portugal and Ireland, along with Spain and Greece, share the unflattering acronym PIIGS. These countries represent the most troubled economies in the eurozone. But unlike the other PIIGS, Italy is too big to get bailed out.
Once an agricultural mecca, Italy has become an industrial state, with the bulk of its economic strength coming from processing and manufacturing, according to U.S. State Department statistics. Italy's major industries include chemicals, pharmaceuticals, motor vehicles and clothing.
Italy's economy ranks eighth in the world. It's also the third-largest economy in the eurozone, behind Germany and France, whose leaders and taxpayers have grown weary of their role of supporting weaker neighbors.
But the size of Italy's economy doesn't necessarily equal prowess. The Mediterranean nation is stifled by its mind-blowing debt of €1.9 trillion. The ratio of debt to GDP is 120%, a "disproportionate and unacceptable" ratio, according to BGC Partners.
Meanwhile, Greek Prime Minister George Papandreou is expected to make his resignation official following a cabinet meeting Tuesday. Papandreou said Sunday he would step down as long as Greece agreed to sign off on that nation's bailout.
Late Monday, Eurogroup president Jean-Claude Juncker said the group of eurozone finance ministers wanted Greece to confirm its commitment in writing, with signatures from the two opposition leaders.
-- CNN's Matthew Chance, Becky Anderson and Hada Messia contributed to this report.