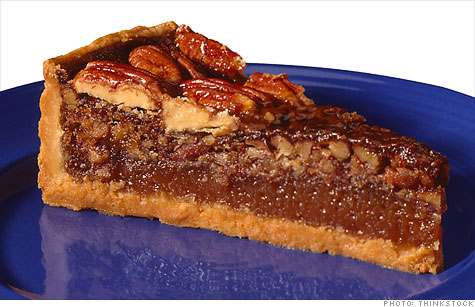 NEW YORK (CNNMoney) -- You might have to pay more for your pecan pie this Thanksgiving holiday. The tasty tree nuts are in tight supply in the U.S. thanks to a crop-damaging drought and a jump in demand from Chinese consumers.
Pecan prices are expected to hit $11 per pound or more this year in supermarkets, according to Jeff Worn, vice president of South Georgia Pecan Company. That's up 22% from 2010. And prices have soared 57% percent since 2009, when pecans retailed for $7 per pound, Worn explained.
China is one driving force behind the pop in pecan prices. The Chinese diet is high in nuts, and the country's demand for American pecans took off in 2007, when walnuts became more expensive than pecans, according to Will Easterlin, general manager of the Easterlin Pecan Company and the treasurer of the Southeastern Pecan Growers.
"China is a growing market for all the tree nuts. Long term there is great potential for them, particularly as the Chinese middle class continues to grow," said Karen Halliburton Barber, assistant vice president and senior agriculture analyst at Rabobank International.
Pecan supplies are also being pinched by a severe drought in the U.S., one of the world's top pecan growers, which has severely damaged crops in the southern region.
South Georgia Pecan's Jeff Worn estimates that Texas generally produces 70 million pounds of pecans per year, but says this year the crop is expected to be just 30 million pounds.
"South Texas has been in several years of drought; growers are running out of irrigation water, and the crops are facing pressure from wildlife searching for hard-to-find food," Blair Krebs, Associate Director of Sales and Marketing at the Texas Pecan Growers association said.
Pecan growers are enjoying the high demand for the nut, but nut processors and consumers are stuck with the higher prices, Barber explained.
Rachel McBride, owner of The Blue Stove Bakery in Brooklyn, NY, has seen pecan price increases since she went into business in 2009. "There has been a steady price increase in pretty much everything, but the increase this year for pecans was unusual." that's forced her to raise her prices accordingly
As the winter holidays approach, Worn worries about the Thanksgiving dessert favorite, pecan pie.
"Pecans are a staple here in the United States and I hope that with current household income under pressure we don't price ourselves out of the market against other nuts."