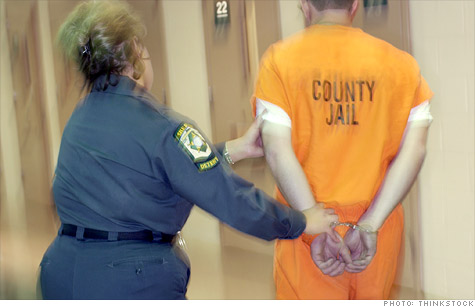 Riverside County in California is going to charge prisoners$142 for every day they spend in jail.
NEW YORK (CNNMoney) -- In the latest case of government belt-tightening, a Southern California county is charging prisoners for the daily cost of their stay.
The Riverside County board of supervisors approved a measure on Tuesday that allows the county to charge prisoners $142.42 per day.
County supervisor Jeff Stone proposed the idea because he believes the county could save between $3 million and $5 million annually by charging at least some of the 60,000 prisoners that pass through Riverside's jails every year.
But he added that his estimate of up to $5 million in savings is a conservative one, recognizing that not everyone who can afford to pay will pay.
Still, while many criminals are broke, Stone said that many of those arrested for crimes like drunk driving have jobs and should be able to pay.
"We believe that 25% of the people who go through our jail systems can afford to pay for their jail stay," he said. "If we just grab 25% of those, that would save the county or the city $6.7 million."
The board of supervisors made the decision after the county's lawyer determined that this type of reimbursement is legal under state law. But this is not a blanket decision. The county will review the reimbursement requirements of prisoners on a case-by-case basis, and make determinations based on their ability, or inability, to pay.
"In order to be reimbursed, the court must determine that the defendant has the ability to pay all or a portion of these costs," wrote county counsel Pamela Walls, in a legal memo to the county supervisors. "Many defendants who are incarcerated lack the financial means, after the payments of fines and penalties, to reimburse these costs."
The court must also weigh the charges against the prisoners' family support obligations.
Depending on their financial situation, some prisoners might be allowed to pay their incarceration costs through a series of monthly payments.
But Will Matthews, spokesman for the American Civil Liberties Union, said that most prisoners are indigent, "so it begs the question as to how they're going to be paying" and whether they would be "forced into jail for failure to pay their fine."
"Programs like this certainly do raise very serious Constitutional questions," he said. "We're seeing it increasingly in jurisdictions around the country."
Riverside County's decision mirrors California's statewide budget crisis, which is partly responsible for overcrowding in the prison system. Earlier this year, the U.S. Supreme Court determined in a 5-4 vote that conditions in the state prison system fall "below the standard of decency."
But rather than free 33,000 low-level offenders, Gov. Jerry Brown signed a law to transfer them to other facilities. But his solution could make problems for the counties worse, since his plan is to transfer prisoners from state prisons to county jails.
Stone said that the state gave Riverside County $21 million to house hundreds of their prisoners over a nine-month period. At the current rate, he expects the Riverside jail system to exceed its capacity next month.
California is not alone when it comes to budget cuts at the big house. The Texas jail system has also found ways to cut costs, by forcing prisoners to tighten their belts, quite literally.
Since April, the Texas Department of Criminal Justice has scaled back on weekend meals to two per day, eliminating lunch.

In another recent cost cutting, Texas has eliminated customized last meals for death row inmates.