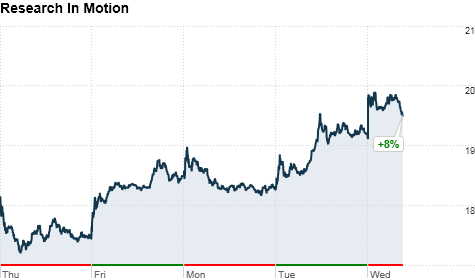 Click on the chart to track Research In Motion's stock.
NEW YORK (CNNMoney) -- With crude oil trading above $100 per barrel for the first time in 5 months, it is pushing news from Europe's debt crisis on the back burner, at least for now.
Crude oil advanced more than 25% over the past month-and-a-half, driven by various factors. There is certainly a risk premium discounted in its price given the escalation of political tensions between Israel and Iran, which is the world's fourth-largest oil producer.
In addition, retail spending continues to grow on a month-to-month basis, illustrating that the U.S. consumer is in better shape than many expected, which bodes well for the economy and oil prices.
Meanwhile, Goldman Sachs (GS, Fortune 500) upgraded Research In Motion (RIMM), citing that the sum of the parts is bigger than the whole. Shares of the BlackBerry maker advanced 3% in early morning trading, but the stock is still down 66% year-to-date.
These are some of the popular stories on StockTwits Wednesday:
gtotoy $RIMM http://stks.co/19Vg Upgraded to Neutral from Sell at Goldman, gotta say it looks overdue for a bounce. Falling wedge
Contrahour $RIMM Note to Goldman: Value investing does not work for technology stocks.
tradefast iPhone has passed Blackberry as top smartphone among mobile employees (enterprise) share is 45% vs 32% $AAPL $RIMM
kevin_vassallo with Oil back over $100 it's going to be rather difficult for the central planners to keep claiming deflation $CL_F $USO
reformedbroker Crude oil is the new Hedge Fund Hotel, bullish hedge fund bets up 7.2% last week to a 6 month high according to CFTC $USO
RonnieSpence lots of buy stops were right at that $100 level... people really should be more creative. That move looked like a stop hunting mission. $CL_F
1leone $CL_F $100 breach is just a 'media hyped' number of little fundamental & technical significance, perhaps only as psychological worth