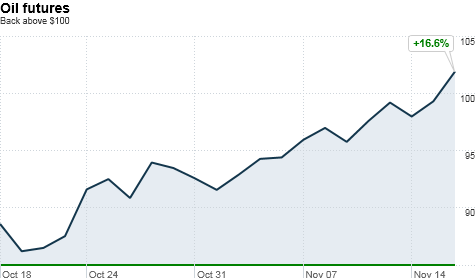 NEW YORK (CNNMoney) -- Oil broke above the $100-a-barrel level Wednesday, the first time it has crossed that threshold since the summer.
The December futures contract for West Texas Intermediate shot up $3.22 to $102.59 a barrel in trading on Wednesday. Oil prices have risen 18% in the last month.
The last time oil was above $100 was on July 26.
Phil Flynn, senior market analyst for PFG Best in Chicago, said the prices are being driven higher by encouraging U.S. economic readings in recent days. These include the 0.7% rise in industrial production reported Wednesday by the Federal Reserve that was nearly twice as much as economists expected, or the stronger-than-forecast rise in the October retail sales reading reported by the Commerce Department on Tuesday.
Worries in the late summer that the U.S. economy was at risk of falling into a new recession had been a major force driving down oil prices. But Flynn said that because the focus now is on economic weakness in Europe rather than the United States, the dynamic has turned around.
"In a weird way, the run-up in oil is good news for the U.S.," he said. "Our data in the U.S. continue to exceed expectations."
Still Flynn doesn't expect oil to go too much higher, topping out about $104 a barrel. A stronger dollar versus the euro could act to keep oil from getting too high.
And he said consumers might get a break and not suffer from much of an increase in retail gasoline prices. That's because gas prices rose during the late summer and early fall, even as oil futures were declining.
The Consumer Price Index released Wednesday showed gasoline prices falling 3.1% in October even as oil futures climbed.