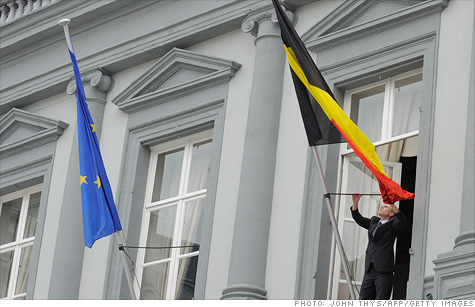 Belgium became the latest in a string of countries facing ratings downgrades as Europe's crisis spreads.
NEW YORK (CNNMoney) -- Credit rating agency Standard & Poor's downgraded Belgium Friday as the sovereign debt crisis continues to spread across the continent.
The rating change put Belgium's rating down one notch to AA. That's the S&P's fourth-highest rating is still investment grade. But the rating agency warned it is considering further cuts, assigning it a negative outlook.
S&P cited "renewed funding and market risk pressure" in the downgrade announcement, saying those risks are "increasing the perception of difficulties in the Belgian financial sector and in our opinion raising the likelihood that the sector will require more sovereign support."
Worries about the European economy falling into a new recession and what it means to Belgium's budget situation was also cited by the agency.
"With exports of over 80% of GDP, Belgium is one of the most open economies in the eurozone and is therefore in our opinion highly susceptible to any weakening of external demand," it said.
S&P says it expects Belgium's debt will equal about 93% of its gross domestic product at the end of this year and could soon top 100%.
"The Belgian government's capacity to prevent an increase in general government debt...is being constrained by rapid private sector deleveraging both in Belgium and among many of Belgium's key trading partners," it said.
Borrowing costs in Belgium have been trending higher, as they have in many other eurozone nations. Friday, the interest rate on 10-year Belgian bonds rose to 5.86%. That's a far cry from where yields were six weeks ago, when 10-year Belgian bonds fetched yields under 4%.
Friday's downgrade came after Belgian markets were already closed. And with a Belgian bond auction slated for Monday, yields could move even further away from those recent lows.
Belgium has plenty of company. European bond yields have been steadily moving higher all week as investor demand weakened amid heightened worries over the spreading debt crisis.
The Belgian downgrade is reflective of those rising rates, which is linked to the diminishing confidence investors have from a global perspective, said Belgian Finance Minister Didier Reynders, adding that the Belgian note remains one of the strongest in Europe.
Yields for Italian 10-year bonds climbed back to the danger zone above 7% Friday, following a difficult auction. And even Germany, the strongest eurozone economy with the lowest yields, had trouble finding buyers at its auction earlier this week.
Belgium has gone more than a year since its last parliamentary elections without being able to form a government, a fact that S&P also cited in its concern about its ability to address the looming budget problems.
"While Belgium's caretaker government has implemented temporary measures that have improved the primary fiscal position during 2011, in our opinion it lacks a mandate to implement deeper fiscal and structural reforms," said S&P.
Reynders said S&P's downgrade just reinforces the need for Belgium to finalize its 2012 budget.
-- CNN's Pierre Meilhan contributed to this report.