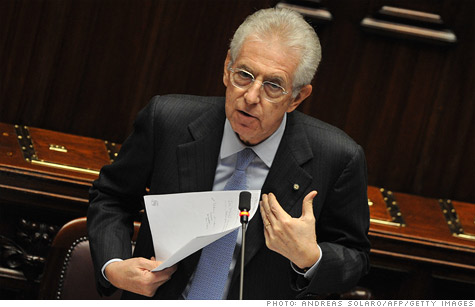 Italian Prime Minister Mario Monti inherited a troubled economy, as borrowing costs continue to rachet higher.
NEW YORK (CNNMoney) -- In yet another sign of Europe's deepening crisis, two Italian debt auctions drew weak demand Friday, sending bond yields soaring and keeping investors on edge.
"We are fast running out of options," wrote Deutsche Bank strategist Jim Reid, in a client note. "The great hopes of the last few weeks for Europe have fallen one by one."
Italy sold €8 billion of six-month bonds at 6.5% and €2 billion of zero-coupon bonds, which have a maturity of up to two years, at 7.8%. Just a month ago, those same auctions drew yields of 3.54% for six-month bonds and 4.63% for zero coupon bonds.
The auctions are just the latest in a string of weak debt sales by some of Europe's largest economies this week.
Just two days earlier, Germany, Europe's largest economy, sold only €3.6 billion of the €6 billion 10-year bunds it had hoped to auction. And earlier this week, Spain's auctions drew sales at their highest rates in years.
Many have been calling for the European Central Bank to step up even more than it has already. But the ECB has said repeatedly it does not want to be the lender of last resort, nor does it think it should be.
"They don't want to write a blank check," said Andrew Milligan, head of global strategy at Standard Life Investments in Edinburgh, Scotland. He said Italy first has to outline its new fiscal plan before the ECB makes a move.
Italy has been a big driver of the recent worries. As the eurozone's third-largest economy, it has been deemed too big to bail. At the same time, it's also considered too big to fail.
Italy carries €1.9 trillion in debt and has a debt-to-GDP ratio of some 120%.
Italy's new prime minister, Mario Monti, inherited a mess earlier this month from Silvio Berlusconi, so it will take some time to come up with a workable plan to reverse Italy's problems, said Milligan.
"It's not something you draw up overnight," he said. "The Berlusconi government did not leave Italy in a good place."
Italy also operates Europe's largest bond market, and the yield on the 10-year Italian bond spiked above 7% again Friday.
That 7% level flashes warning signs for investors, since it was the threshold that eventually led to bailouts for Greece, Ireland and Portugal -- though all three had yields well above that level before getting aid.
Aside from Italy, there is growing concern over the economic situations in both France and Spain - the second- and fourth-largest eurozone economies. European leaders have repeatedly said they will do everything they can to resolve the crisis.
"We are determined, as the three big economies in the eurozone, to do all to support and guarantee the sustainability of the euro," said French President Nicolas Sarkozy, following a meeting on Thursday with German Chancellor Angela Merkel and Italian Prime Minister Monti.
But worries about defaults and downgrades continue to plague sentiment. On Thursday, Fitch Ratings downgraded Portugal's credit rating to junk, with a negative outlook "in light of the worsened European outlook."
On the bright side, Fitch's comments about Portugal's long-term prospects were more encouraging. "Significant structural reforms...should leave Portugal in a more competitive position in the long term," wrote Fitch analysts.
Meanwhile, Hungary, which recently took the proactive step of asking both the International Monetary Fund and European Commission to consider aid if it was needed, saw Moody's cut its sovereign rating by one notch, pushing it deeper into junk.
Next up? The ECB's monetary policy meeting on Dec. 8. And expectations are already running high for some action or indication about what the ECB plans to do next to address the crisis.
"I don't think the ECB is going to make an announcement that it will go buy Italy's or another country's debt unless there are more structural and fiscal policies in place," said Milligan, though he does think the central bank will announce an interest rate cut at that meeting.
"Europe is just one example of a crisis facing the Western world," he said. "When is America going to get its debt problems in order? Both sides of the Atlantic are just kicking the can down the road."