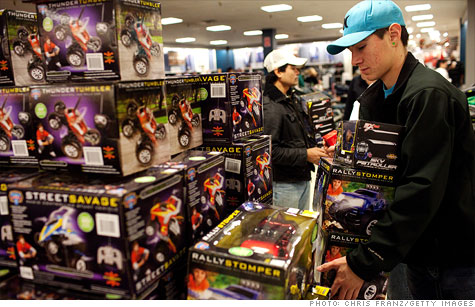 Economists aren't too excited about reports of strong Black Friday sales.
NEW YORK (CNNMoney) -- The holiday shopping season reportedly got off to a strong start this past weekend. But don't expect to find a thriving U.S. economy under the Christmas tree this year.
Economists say that they aren't getting too excited by reports of a record $52 billion in post-Thanksgiving sales, up 16% from a year ago, reported by the National Retail Federation late Sunday. They say that doesn't promise a strong holiday shopping season will necessarily follow.
"I don't generally place a lot of weight on Black Friday sales," said Mark Zandi, chief economist with Moody's Analytics. "It's nice to have good sales rather than poor sales. But relying on Black Friday to gauge how Christmas is going to turn out is always difficult."
Zandi and others said that even if sales do hold up for the full holiday shopping season, there's enough other headwinds buffeting the economy to keep growth and hiring well below desired levels.
Prime among them is the risk that the payroll tax holiday, which reduced most workers' tax bite by about 2% of income for the last 11 months, is set to expire at the end of the year. That could quickly put a brake on spending.
A weak labor market, with unemployment still near 9%, also has limited the pay increases workers can hope for in the new year.
"Consumers have stepped up here at the end of the year, but they've done it by drawing down savings," said Zandi. He said it will be difficult for them to continue to do that if their after-tax income declines and it remains difficult to borrow.
Spending could also be crimped in the new year unless Congress passes an $44 billion extension of long-term unemployment benefits. Failure to do so could end benefits for 6 million unemployed, with 1.8 million running out in January alone, according to the National Employment Law Project.
Tim Duy, economics professor at the University of Oregon, says retail sales are again growing at about the same pace they were growing before the Great Recession, but that means they're not growing nearly fast enough to make up for the drop in demand that took place during the downturn.
He said the reported jump in holiday spending so far this year, "just isn't that important, nor is it a key economic indicator.
"There was a massive drop in demand that looks more permanent than temporary," Duy said. "Unless that is reversed, you can expect to plod along, but not get back to potential."
Part of the problem is that the overwhelming majority of holiday spending is on goods, rather than services. But the modern U.S. economy and job base is far more dependent on services than manufacturing.
"Retail spending accounts for only about 44% of total consumption," said Ian Shepherson, chief U.S. economist for High Frequency Economics. "If people choose to spend more on holiday gifts but offset that by spending less on discretionary services like restaurants and movie tickets, the retail sales numbers will overstate the big picture."
The fears of the U.S. economy falling into a new recession have abated somewhat since the end of the summer, when it dominated talk among economists. But economists say even a solid holiday shopping period isn't likely to get employers hiring at more than their current modest levels, or repair the continued weakness in the housing market.
Duy and Zandi worry that U.S. economic growth could be derailed by any shock in the new year, such as a financial meltdown caused by the European debt crisis.
"Even if we have a really good Christmas, there's reason to be nervous about how the economy is going to perform early next year," said Zandi.