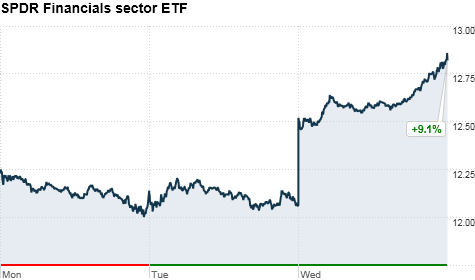 Click the chart to track the financial sector ETF.
NEW YORK (CNNMoney) -- Bank stocks rallied Wednesday -- despite a credit rating downgrade by Standard & Poor's -- after the world's top central banks announced a coordinated effort to avoid another global credit crunch.
Shares of Bank of America (BAC, Fortune 500) surged more than 7% to $5.44 on Wednesday, a day after tumbling to near $5 a pop .... their lowest level since March 2009.
Other major U.S. bank stocks also moved sharply higher: Morgan Stanley (MS, Fortune 500) spiked 11%, while JPMorgan Chase (JPM, Fortune 500) Citigroup (C, Fortune 500) climbed more than 8%. Wells Fargo (WFC, Fortune 500) and Goldman Sachs (GS, Fortune 500) rose more than 7%.
London-based Barclays (BCS) and Swiss bank UBS (UBS) also joined advance.
All eight were among 15 banks that were downgraded by S&P late Tuesday as a result of new criteria to evaluate the credit ratings of the world's 37 largest banks.
S&P altered its rating methodology to better reflect its view of the global banking sector, including the impact of sovereign risks, said S&P managing director Jayan Dhru, who leads the agency's Global Financial Institutions Group.
"Sovereign risks impact bank ratings in many ways, directly and indirectly" said Dhru during a conference call explaining S&P's new evaluation process on Wednesday. "They could mean reduced government support for the banks, or riskier economic operating conditions. By design, [the new methodology] captures these linkages."
S&P's downgrades come amid concerns about how the world's financial institutions will cope as Europe's debt crisis continues to grow.
While Tuesday's dings were concentrated on U.S. and U.K banks (11 out of 15), S&P has been lowering the ratings on banks in Greece, Ireland, Portugal, Spain and Italy for months.
Dhru also said that the new ratings criteria accounts for the financial support banks garner from central banks, including the Federal Reserve and European Central Bank.
In fact, Wednesday's broad stock market rally was sparked by a coordinated effort from the Fed and the ECB, as well as four other central banks, to boost liquidity by making it cheaper for banks around the world to borrow U.S. dollars.
In the wake of Europe's debt troubles, the effort is intended to "ease strains in financial markets and thereby mitigate the effects of such strains on the supply of credit to households and businesses and so help foster economic activity," the Fed said in a press release.
Investors were also relieved after the People's Bank of China announced measures to boost liquidity by lowering its reserve requirement ratio for financial institutions by half a percentage point.