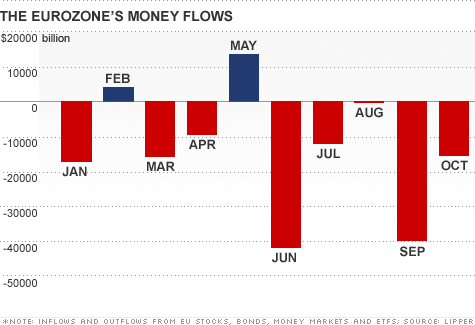 In 2011, $151 billion left the eurozone.
NEW YORK (CNNMoney) -- Even as Europe's sovereign debt crisis heats up, there's been no mass exodus of investor funds out of the eurozone this year.
In fact, global investors have pulled just $151 billion out of the region through the end of October, roughly 5% of the $2.8 trillion that what was invested in Europe at the start of the year according to data provider Lipper.
Why such a small percent? For all the fears about the fate of the eurozone, investors still do not see the United States as a global safe haven either.
"Even though Europeans and others think the situation is worsening in the eurozone, they're cautious about putting money in the U.S.," said Komal Sri-Kumar, chief global strategist at TCW.
"The European Central Bank is standing tight on new money creation, whereas the Federal Reserve appears to be pretty open to quantitative easing," he added.
Should the Federal Reserve unveil a third major round of bond buying, gains on investments in the United States by foreign investors could be quickly negated once the investments are converted from dollars into foreign currencies. This so-called quantitative easing typically weakens the dollar.
Unlike quantitative easing, Wednesday's move by central banks around the world to boost liquidity doesn't necessarily favor one currency over another.
Lipper doesn't track exactly where funds moving out of the eurozone go, but investors have added to holdings of U.S. Treasuries, despite currency risk, and gold.
Still, gold has its limits as a safe haven. If the U.S. and Europe enter into recession, overall consumer prices could decline, which could deflate the value of gold.
The greatest outflows in Europe were in money market accounts and bonds, with 6% in money markets and 9% from bonds in the first ten months of the year. Meanwhile, investors took just 1% out of EU equities.
The biggest exodus from the eurozone came in August 2011 when investors took $248 billion dollars out of stocks, bonds, and money market accounts.
The larger issue for the financial system in Europe is the movement of funds out of peripheral countries where sovereign debt yields are spiking and into Germany, which is perceived as a safe haven in the event of an EU breakup.
"A lot of the stress may be reflected in terms of movement within the eurozone out of Greece, Spain, Italy and into Germany," said John Ryding, chief economist at RDQ Economics and a former economic advisor to the Bank of England. "That's far and away the greatest issue."
Those intra eurozone movements are nearly impossible to quantify from publicly available data sources, because the European Central Bank's regularly scheduled monthly bond purchases obscure such shifts.
But the rare coordination among central banks around the world Wednesday to boost worldwide liquidity shows just how nervous people are about a possible credit crunch.