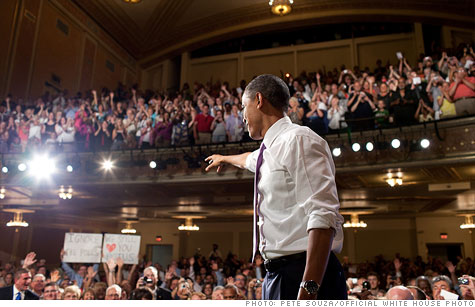 Obama is a frequent swing state visitor.
NEW YORK (CNNMoney) -- If history is any guide, the 2012 presidential election will be won or lost in just a few fickle states.
They are the "swing states" -- battlegrounds where every vote matters, and millions of campaign dollars will be spent.
And this time around, the debate that plays out in places like Florida, Ohio and Pennsylvania is likely to center around one topic, and one topic only: the economy.
Things are not looking good for Obama on a national level. After all, the unemployment rate has been sitting at or above 9% since April, economic growth has been muddling along all year, and the besieged housing market has even further to fall before home prices really hit rock bottom.
But the swing states are where things will really matter for Obama.
Only 9% of voters in 12 key swing states say economic conditions are good or excellent, according to a Gallup survey released in early November. And 72% say the economy is getting worse, not better.
Voters in those states slightly favor a Republican on unemployment, and Republicans also have a double digit lead on who would better handle the federal budget deficit and debt.
The dismal numbers mean Obama and his advisers are looking at a tough campaign filled with new challenges. The message of hope and change that brought in 365 electoral votes to John McCain's 173 will have to evolve.
There is some good news for the Obama campaign. In 2008, then-Senator Obama rocked the battleground states, picking up almost every electoral vote they had to offer.
That leaves him with some wiggle room this time around. Even if the Republican nominee picks up Florida, Ohio, Pennsylvania, New Hampshire, Iowa and Indiana, Obama can still get to 270 electoral votes and win re-election.
But in order to make that happen, he'd have to win North Carolina, Virginia, Colorado, Nevada, Michigan and New Mexico. And that's no easy task.
A closer look at swing state economies reveals that some are struggling mightily, while other battleground economies are in far better shape.
Jobs: By the simplest of measures, four states are really in the dumps. Michigan, Nevada, North Carolina and Florida all have a double-digit unemployment -- along with 64 electoral votes.
At the same time, Iowa, New Mexico, Virginia and New Hampshire all have unemployment rates below 7%.
Economic growth: Looking at a broader measure of economic growth over an extended time period, the message is the same: Some swing states have turned the corner, while others are struggling to make a full recovery.
According to data compiled by the Philadelphia Fed that measures employment, manufacturing activity and wages, seven of the 12 swing state economies are weaker than when Obama took office.
The economies of Iowa and Virginia have almost fully rebounded to Jan. 2009 levels, while North Carolina, Florida, New Mexico and Colorado are off by 2% - 5%. Nevada's foundering economy is 12.9% less productive than when Obama started the job.
Ohio, New Hampshire, Michigan, Indiana and Pennsylvania are all in the black, but not by much.
If Obama were to capture each swing state in which the economy has improved according to the Fed data, and lost each where it has regressed, he would come away with 284 electoral votes -- a very narrow victory.
Housing: Part of the problem for struggling swing states is the housing market. While still depressed in most areas of the country, it's especially bad in a few 2012 battle zones.
Colorado, Michigan, Florida and Nevada all have foreclosure rates that are among the top 10 in the country, according to Realty-Trac. More than a quarter million households are currently in foreclosure in the four states.
Of course, a lot can happen in a year. Growth could very well accelerate in swing states.
Congress might even move to pass extensions of the payroll tax holiday and unemployment insurance, something economists say would help support growth. (What Congress has done to fix the economy -- nothing)
But even under the best case scenario, Obama is likely to enter the heart of the 2012 campaign with national unemployment north of 8%.
The anecdotal evidence is lined up firmly against him. No president since Franklin D. Roosevelt has won re-election with an unemployment rate over 7.2%.
But that's just one data point. According to political scientists and election watchers, a more useful predictor of electoral success is how the public feels about the economy.
But more bad news there for Obama. Gallup asked swing state voters if they are better off than when Obama took office. Sixty percent said they are worse off at the moment, while only 37% felt better off.