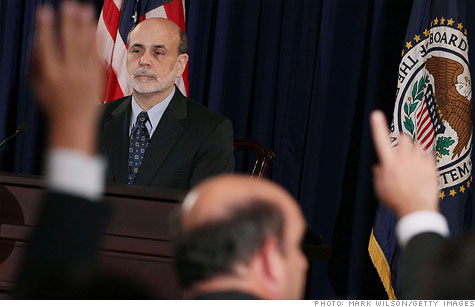 Reporters raise their hands to ask Federal Reserve Chairman Ben Bernanke questions at a press conference in June.
NEW YORK (CNNMoney) -- The Federal Reserve acknowledged the job market has improved slightly, but said the economy's immediate future remains on pins and needles.
"The economy has been expanding moderately," and "indicators point to some improvement in overall labor market conditions, the Fed said in a statement Tuesday.
But the Fed was quick to follow up that good note with a side of pessimism: "the unemployment rate remains elevated" and "strains in global financial markets continue to pose significant downside risks."
The Fed's policymaking committee, the Federal Open Market Committee, voted 9-to-1 to make no changes to the central bank's ongoing stimulus policies and renewed its pledge to keep interest rates at record lows "at least through mid-2013."
At its last meeting in November, the Fed cut its economic forecasts for the year, predicting gross domestic product would grow between 1.6% and 1.7% in 2011. The central bank expects the unemployment rate to average between 9% and 9.1% for the fourth quarter of the year.
Meanwhile, the program known as Operation Twist remains in place.
That policy, which the Fed launched in September, is intended to bring down long-term interest rates by making it cheaper for businesses, consumers and potential homebuyers to secure cheap loans.
The Fed also made no mention of changing it communications policy, even though such changes were discussed at the November meeting. Some Fed officials think that just by communicating their goals and benchmarks more clearly to the public, they could lessen uncertainty and boost the economy slightly.
Chicago Fed President Charles Evans was the only Fed official to vote against the action Tuesday. Just as he did in November, Evans still believes the Fed needs to do more to boost the economy.