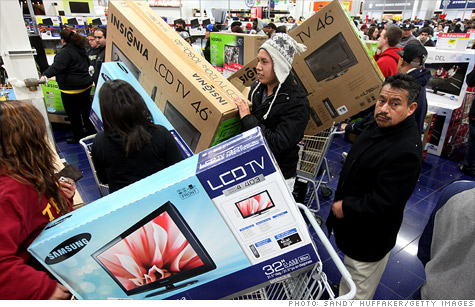 Retail sales fall short.
NEW YORK (CNNMoney) -- Consumers slowed the pace of their shopping in November, but that might not bode ill for the entire holiday season.
The Commerce Department reported Tuesday that retail sales were up 0.2% compared to October. The result was well short of the 0.6% increase forecast by economists surveyed by Briefing.com, and the 0.6% gain posted in October.
On an annual basis, sales were up 6.7%, below the 7.5% pace the month before.
The story was similar when auto sales were excluded. Those sales increased by only 0.2%, well off the 0.5% forecast.
While the numbers might have disappointed forecasters, any concern about the holiday season was tempered by the fact that November came on the heels of two months of big sales increases.
With that in mind, Mark Vitner, senior economist at Wells Fargo, says holiday sales are still on track for a strong season.
"The level of sales is still extremely, extremely strong," Vitner said. "The categories that matter most for holiday shopping were all up solidly."
One of those categories -- electronics and appliance store sales -- increased by 2.1% over the previous month. But enthusiasm about the sector was countered by a separate report showed Best Buy (BBY, Fortune 500) earnings declined in the latest quarter.
Clothing retailers saw their sales bump up by 0.5%
"I think we are still on track for a pretty decent holiday shopping season," Vitner said.
Late in the month, Black Friday shoppers showed up in droves and spent a record amount of money over the Thanksgiving weekend -- but that doesn't mean holiday sales momentum will continue through Christmas.
Typically, sales over Black Friday weekend comprise 10% of total holiday sales. That means there is a long way to go before the season can be declared a success -- or failure.
Food and beverage stores were among the worst performers in November, registering a 0.2% decline from October.