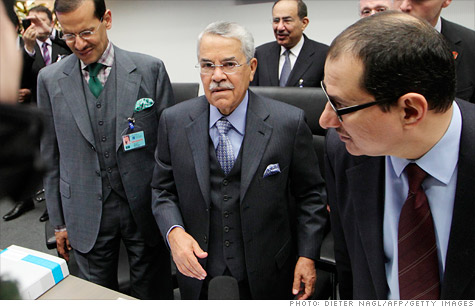 Saudi oil minister Ali Naimi at the semi-annual OPEC meeting in Vienna where the cartel agreed to officially increase its output for the first time in years.
NEW YORK (CNNMoney) -- For the first time in three years, OPEC nations agreed Wednesday to a higher oil output level despite continuing uncertainty in the global economy.
But analysts said the new output level of 30 million barrels a day would have little impact on world oil prices. Thanks to overproduction by some members, the cartel is already producing that much oil.
"OPEC's decision today to raise the official target for the cartel's oil output to close to the current level of production will make no real difference on the ground," Julian Jessop, chief global economist at Capital Economics, wrote in a note Wednesday. "The bigger picture is that the latest demand forecasts from both OPEC and the International Energy Agency still look too high and that oil prices have further to fall."
OPEC's last official production target was just under 25 million barrels per day set in 2008. The world currently produces just under 88 million barrels of oil per day, according to the U.S. Energy Information Administration.
Oil prices in the U.S. have been hovering around $100 a barrel for the last several weeks.
U.S. oil prices have risen a bit in recent months as a supply glut in the United States began to resolve itself, but they are lower than the $112 a barrel seen at the start of the year following the Middle East protests and a loss of oil from Libya.
The Libyan loss was largely made up for by Saudi Arabia, which went against its fellow OPEC members and raised production.
Wednesday's agreement announced at the conclusion of the annual OPEC conference held in Vienna allows for Saudi Arabia to continue producing oil at current levels even though oil from Libya is returning to market and output from Iraq is increasing.
It represents a bit of a victory for Saudi Arabia, which has argued for higher oil production against some other OPEC countries like Iran and Venezuela, which wanted to limit output.
But OPEC left the door open to future production cuts.
"The Conference also agreed that Member Countries would, if necessary, take steps (including voluntary downward adjustments of output) to ensure market balance and reasonable price levels," OPEC said in a statement on its Web site.
OPEC is often vague and divided about what it considers "reasonable price levels". Last week OPEC Secretary General Abdulla Salem El Badri, himself a Libyan, described current prices as "comfortable."
But it's been reported that certain ministers in Saudi Arabia and the Gulf states would prefer a price closer to $80 a barrel in an attempt to spur global economic growth.
Some analysts are expecting Saudi Arabia to eventually cut production, especially if supplies swell.
"Relatively weak global demand growth coupled with the gradual recovery in Libyan output and a resumption of growth in Iraqi output will lead to a Saudi pullback of at least 500,000 barrels per day" by early next year, Greg Priddy, a global energy analyst at the political risk consultancy Eurasia Group, wrote in a research note earlier this week.