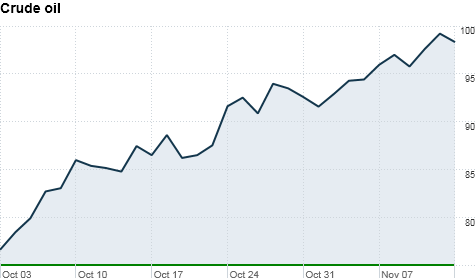 Click chart for more on oil and other commodities
NEW YORK (CNNMoney) -- Americans reeling from all the grim economic news lately can add one more item to the list -- surging oil prices.
Analysts say the recent rally that's sent U.S. crude prices up 20% since the start of October has been driven by a broad range of factors, from a weaker dollar to an easing supply glut and ongoing tension in the Middle East.
And if that continues, it could add up to a greater burden for drivers, in the form of higher gas prices.
The U.S. Energy Information Administration said last month that U.S. prices would average $3.52 per gallon this year before dropping to $3.43 in 2012. But that all could change if oil continues to trend higher.
U.S. crude prices are within spitting distance of $100 a barrel -- a level not seen since mid-July, when the national average for a gallon of gas was around $3.69, according to motorist group AAA.
Stephen Schork, publisher of the industry newsletter The Schork Report, said if the rally in U.S. crude really takes off, gas prices could top $4 -- a level not seen since July 2008, when prices hit a record high of $4.114.
"There's a lot of things going on here," said Phil Flynn, senior market analyst at PFG Best. The dollar has weakened and emerging market demand, particularly from South America, has strengthened, Flynn said. At the same time, U.S. crude supplies have been tightening.
A weaker dollar typically signals a rise in oil prices, since the exchange rate gives foreign countries a boost in the purchasing power of their currencies.
On the supply side, the main U.S. trading hub in Cushing, Okla., which houses the oil to which U.S. West Texas Intermediate (WTI) prices are pegged, experienced a bottleneck earlier this year that led to an accumulation of oil at the site. That situation has eased over the past few weeks, analysts say, contributing to the price rise.
"It was just a temporary situation," said Peter Beutel, an oil analyst with Cameron Hanover. "It doesn't look like it's ever likely to occur again."
Further construction is planned around Cushing that analysts say should improve its transportation infrastructure and reduce the chance of future gluts from occurring.
Schork said price increases are also being driven by short sellers who are getting pushed out of the market and forced to cover their trades. In addition, an unusually large gap between the prices of WTI and Brent crude, the European benchmark, is now closing, he said.
Brent and WTI prices have historically tracked within just a few dollars of each other, but this year they've been separated by a wide gap. In September, that gap stretched to a whopping $25.
That happened in part because, while the glut in Oklahoma led to an oversupply of WTI, production in Europe's North Sea dropped sharply and the Libyan industry was disrupted by civil war. Those events helped push Brent prices above $125 a barrel in April.
At this point, however, Beutel said there is no reason for such a large price gap, and he would be "shocked" if it doesn't narrow to less than $5 by the spring. Brent traded around $112 a barrel Monday and has climbed less steeply than WTI over the past few weeks. In early October, Brent was trading around $104 a barrel.
"The WTI certainly has a lot more room to go higher than the Brent does, " Beutel said.
To add to all this, recent concerns that hostilities may break out between Israel and Iran and disrupt Middle Eastern oil production are also driving up prices globally, said Jim Ritterbusch, president of oil trading advisory firm Ritterbusch and Associates.
But the biggest question for oil prices still remains one of demand, especially in light of the ongoing European debt crisis, which could still spiral out of control.
Production gains in the North Sea and Libya, along with a revival of the Iraqi oil industry will mean little if the European crisis drags the global economy with it.
"It will all hinge on the eurozone," Ritterbusch said. "If you could tell me where the euro currency is going to be a month or two down the road, I could tell you where oil prices will be."