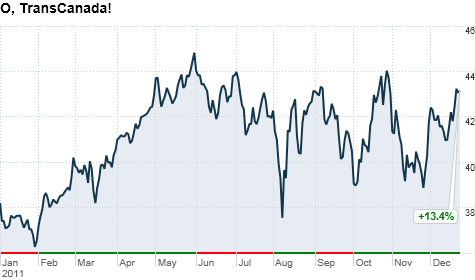 Shares of TransCanada have gotten a nice pop this year on hopes that the U.S. will eventually approve the construction of its Keystone XL oil pipeline.
NEW YORK (CNNMoney) -- The eleventh-hour agreement by Congress to extend the payroll tax cut is a victory for American consumers.
But it also may be a gift-wrapped present under the tree for TransCanada (TRP), the Calgary-based company that wants to build the controversial Keystone XL oil pipeline that would go from Canada to the Gulf of Mexico.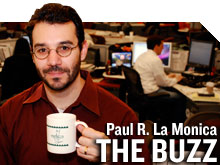 Republican lawmakers got what they wanted in the deal. As part of the bill, President Obama must now make a decision on whether to approve construction of the 1,700 mile pipeline within the next 60 days.
It's not clear if Obama will sign off. There is a lot of opposition to Keystone among Democrats, particularly from environmentalists who worry about the impact of transporting "dirtier" oil from Alberta's tar sands down through the Midwest of the U.S.
Still, it appears that investors are betting that Keystone will eventually get a green light from the U.S. government. Shares of TransCanada are up nearly 15% this year and are just 4% below their 52-week high. (A Canadian stock doing well? It's the anti-Research in Motion (RIMM)!)
But one of TransCanada's top rivals, Enbridge (ENB) has actually been a better stock this year. Enbridge's stock has surged more than 30% in 2011.
Part of that may be due to a bet that any further delay with the Keystone project would benefit Enbridge, which already has approval for big pipelines running in Alberta and North Dakota's Bakken Shale.
But Enbridge's earnings and revenues are expected to grow at a faster clip than TransCanada's in 2012. Analysts are forecasting stronger earnings over the next few years for Enbridge as well. In fact, Fortune named Enbridge's U.S. affiliate Enbridge Energy Partners (EEP, Fortune 500) as one of its top 10 stocks for 2012.
So it may be critical for Keystone to get approved soon in order to keep TransCanada shareholders happy.
It may also be a boon for some members of Congress that have supported the idea of the pipeline.
The Sunlight Foundation Reporting Group, a Washington-based nonpartisan research organization, recently found that four members of our least and dimmest on Capitol Hill who are in favor of Keystone actually own stakes in TransCanada: Rep. Michael McCaul, R-Texas, Sen. Thad Cochran, R-Miss., Rep. Judy Biggert, R-Ill., and Rep. Carolyn McCarthy, D-N.Y.
But there is still a lot of dreaded "uncertainty" (running neck and neck with "volatility" as market word of 2011) hanging over TransCanada and Keystone.
Forcing Obama's hand could backfire. The U.S. State Department, which is reviewing the proposed project and ultimately must decide whether or not to grant a permit for the pipeline, has warned Congress that it does not want to be rushed into a decision.
"Should Congress impose an arbitrary deadline for the permit decision, its actions would not only compromise the process, it would prohibit the Department from acting consistently with National Environmental Policy Act requirements by not allowing sufficient time for the development of this information," a spokesperson for the State Department said at a press briefing earlier this month.
"In the absence of properly completing the process, the Department would be unable to make a determination to issue a permit for this project," the State Department spokesperson added.
Steven Paget, an analyst with FirstEnergy Capital in Calgary, said that makes TransCanada a bit of a risky investment now. Paget thinks that if Keystone is not approved, that could cause TransCanada's stock to fall about $4 to $5, or approximately 10%.
"Investors are assuming Keystone will get approved and it should be within service in the next two years," Paget said. "But we just don't know. I have to admit to some degree of nervousness."
Best of StockTwits, reader comment of the week and see ya in 2012: Time to look back at what's been a crazy 2011.
If you want to see how maddening of a year it's been, @1nvestor has a great chart of the S&P 500 here with the following caption: Yearly. Updated. No wonder everyone is exhausted, running in place for a year.
StockTwits executive editor @ppearlman had a great line about the chart too. He wrote that it "encapsulates, in one candlestick the, the indecision of market participants this past year. Indeed, 2011 has been 'full of sound and fury, signifying nothing."
And here are some funny tweets about the holidays.
cheapsuits I bet there are more iPads than SodaStream machines under the tree this year $AAPL $SODA
Rumor has it Apple is working on carbonation as a feature for the iPad 3.
MarketShot: BREAKING: Santa receives Trillion Dollar Bailout, Confirms Scheduled Present Deliveries to US & Europe
Nice. I always knew that Kris Kringle was (literally) Too Big to Fail!
bradloncar: Embarrassing setback for $BBY to not be able to fulfil those online orders for Christmas. Does this company have anything going for it?
Hmm. Not much. Oh wait! This may be damning with faint praise but with each passing day, it looks like Best Buy is becoming a more likely LBO target.
Now for the reader comment of the week. Remember that huge, ridiculous rally on no news Tuesday? Seems like it was ages ago. A guy tweeting under the name of @LordZoma puts it in perspective.
"Let's be realistic. When there's light volume and no news #SKYNET pushes the market higher. Been like this for years."
Welcome to the machine indeed. Anyway, just like Ah-nold in The Terminator: I'll be back! But not until 2012.
The Buzz is out all next week and on Monday, January 2. Thanks to all my readers for a great year. Appreciate all the feedback! I hope everyone has a great holiday and Happy New Year.
The opinions expressed in this commentary are solely those of Paul R. La Monica. Other than Time Warner, the parent of CNNMoney, and Abbott Laboratories, La Monica does not own positions in any individual stocks.