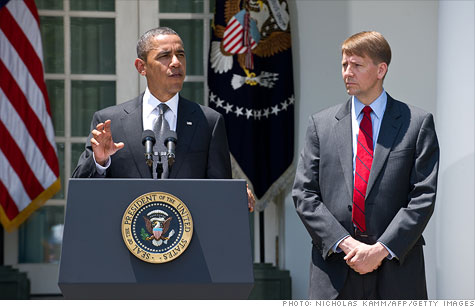 Republicans have blocked Obama's nomination of Richard Cordray for consumer bureau director.
WASHINGTON (CNNMoney) -- Five months after it opened its doors, the Consumer Financial Protection Bureau is poised to begin the year without a Senate-confirmed director.
Over these next few weeks, the question will be whether President Obama will sidestep Congress and make a so-called recess appointment to fill the job.
The president made clear earlier this month that he would consider "all our options," including a recess appointment of former Ohio Attorney General Richard Cordray to run the consumer bureau.
At stake are vast new powers the CFPB can't wield without a director. For example, the bureau can't regulate financial products from non-banks, including student loan providers, debt collectors, payday lenders and check cashers.
Without a chief, the bureau also can't regulate mortgage originators and servicers, which played a big role in the financial crisis by providing subprime mortgages to families who couldn't afford them.
Earlier this month, the Senate failed to muster the 60 votes necessary to take up and consider Cordray's nomination.
Senate Republicans have vowed since May to block confirmation of any director unless they get structural changes to the bureau, which was formed as part of the Wall Street reform law passed last year.
On Wednesday, White House Press Secretary Jay Carney called Cordray the "perfect example of an abomination in terms of Senate behavior."
"He is exactly the right person for the job to be the consumer watchdog," Carney said.
Since May, Republicans have used a little-known procedure to keep the Senate in session -- even as it wasn't really conducting any business -- in order to stop the president from making recess appointments.
The Constitution says neither the House nor the Senate can adjourn for more than three days without the other chamber's consent. And since May 12, neither chamber has taken a recess.
So far, Obama has not tried to challenge the blocking move. But, legal experts say, he has options. Senate Majority Leader Harry Reid could gavel down the Senate for less than three days and give the president an opening.
Another scenario: The president could make an appointment when Congress flips from its first session to its second session sometime on or before Jan. 3.
That has rarely been done. In 1903, President Theodore Roosevelt made 160 recess appointments on Dec. 7, when the first session of Congress ended at noon and the second session began soon after, according to the Congressional Research Service.
The Constitution also gives the president the power to adjourn Congress into recess if the chambers can't agree when exactly to schedule a recess, said David Arkush, an attorney and director of Congress Watch for Public Citizen, an advocacy group.
"I think it's time for the president to make a recess appointment, it's time for CFPB to be up and running with its full powers," Arkush said.
Republicans say their objection to Cordray's nomination has nothing to do with the nominee.
Instead, they want three big changes to how the bureau is overseen. They want to replace the director with a board; make the bureau ask Congress for money each year; and gain more power to overrule the bureau.
If Obama decides to make a recess appointment with Cordray, he's bound to incur the Republican wrath.
Norman Ornstein, a public policy scholar at the conservative-leaning American Enterprise Institute, expects Obama to spend his winter vacation analyzing the political costs to sidestepping Congress on a number confirmations that Republicans have blocked.
"Frankly, if I were President Obama, I would do some recess appointments now, because what's going on is unconscionable," said Ornstein.